Twitter's latest transparency report provides a country-wise breakdown of the number of removal and information requests various agencies made between July and December 2013.
According to the country-specific data shared by Twitter, India made a total of eight removal requests in the six-month period, requesting removal of tweets by (or complete accounts of) 54 Twitter users. Of these eight requests, two were court orders, while others were made by government agencies, police or 'others'. Twitter says it withheld 13 tweets based on these requests, but did not remove any accounts based on requests coming from India between July and December 2013. This data includes all instances where Twitter employed its Country Withheld Content (CWC) tool.
The number of requests coming from Indian agencies is a big change compared to the previous six-month period, where India made a total of two removal requests, involving "less than 10" user accounts. It's worth noting that in case the number of requests (or accounts) in the specified period is less than 10, Twitter says it does not include the exact number "to minimise potential risk to ongoing investigations and matters of public safety".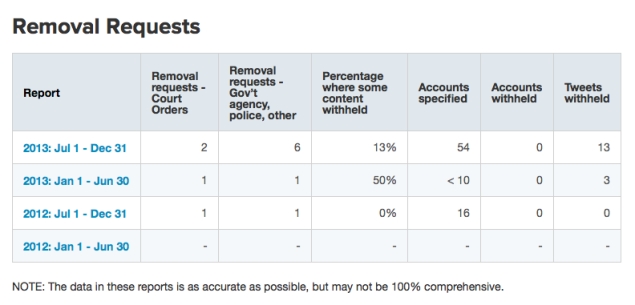 The latest data represents a 500 percent increase (at the very least) in the number of users under India's radar in the current reporting preiod, presuming the worst-case scenario that the "less than 10" for the preceding six months represents nine accounts.
Twitter also revealed that India made a total of 19 account information requests in the last six months of 2013, asking for details of 27 accounts. Twitter says it responded with 'some information' on accounts mentioned in 32 percent of the requests, which translates to six requests by our calculation. However, the exact number of accounts included in these requests was unspecified. In the preceding six-month period, both the requests and accounts involved where "less than 10" .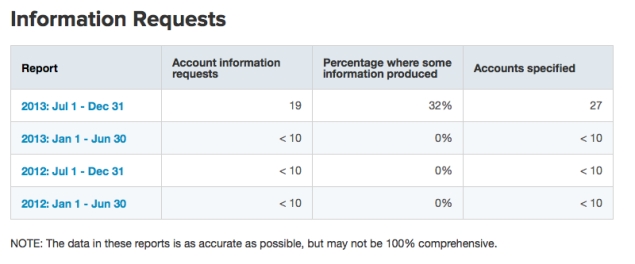 Twitter received over 1,400 information requests globally involving over 2,100 Twitter accounts, and it responded with 'some information' in half the cases.

The popular micr-blogging site revealed over 300 removal requests from countries across the globe, a sharp increase from the previous period.

The full report is available on Twitter's website.