After revamping its quote tweet feature earlier this week, Twitter on Wednesday announced it is replacing its 'Discover' tab with 'Tailored Trends'.
The retirement of the Discover tab from all iOS and Android devices would mean that Twitter users now will not be able to see activities based on people they follow. The new Tailored Trends feature on the other hand will be visible under the Search button in the app. The feature, besides showing Twitter trends, will give a short description of each topic.
"Since trends tend to be abbreviations without context, like #NYFW, a description will make it clear that this trend is about New York Fashion Week. The new trends experience may also include how many Tweets have been sent and whether a topic is trending up or down," adds the Twitter blog post.
Currently the new Tailored Trends section is rolling out to US Twitter users and its reach will be broadened gradually. The micro-blogging website also said that it is currently experimenting with "similar features" for its Web interface.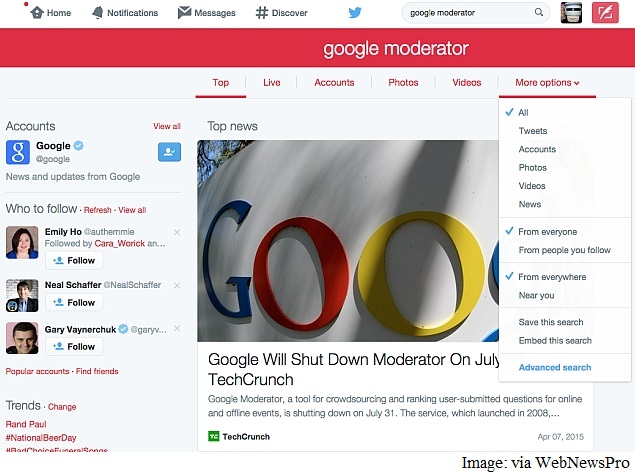 While the firm failed to mention details on what exactly it is testing on the web, a report from WebProNews points to Twitter testing a new and cleaner search UI for its Web interface. Some users also reported the change was visible when searching on Twitter.com.
As seen in the images, the UI seems less cluttered than the existing one and offers few tabs on top covering the search categories. The tabs also go in line with the user's theme colour. Images also show a new 'Live' tab replacing the 'All' function, which lets you view tweets in a sequential pattern. The 'Top' tab shows the trending tweets and the 'People' tab is said to be replaced by 'Accounts'. The 'More' tab is now said to include the options to limit the searches to people you follow and the tweets near you. Twitter has not confirmed anything about the feature yet. However, the change will surely be welcomed by users as it brings a simple, easy to use interface.
For the latest tech news and reviews, follow Gadgets 360 on Twitter, Facebook, and Google News. For the latest videos on gadgets and tech, subscribe to our YouTube channel.
Related Stories