While earlier this week Twitter made it easier to follow conversations surrounding a tweet, the micro-blogging social network on Wednesday introduced a feature to export and import block lists.
With the new feature, Twitter users can curate their own list of blocked users on the micro-blogging network and share it with others. This is said to help make Twitter spam-free and "safer". Other users on the platform can also work and add more users in the shared list by importing it in their accounts.
"While many users find them [mute and block features] useful, we also recognize that some users - those who experience high volumes of unwanted interactions on Twitter - need more sophisticated tools. That's where this new feature comes in," said Xiaoyun Zhang, a Twitter User Safety Engineer in a company blog post. The advanced blocking tools are also said to help the Twitter's developer community "further improve users' experience."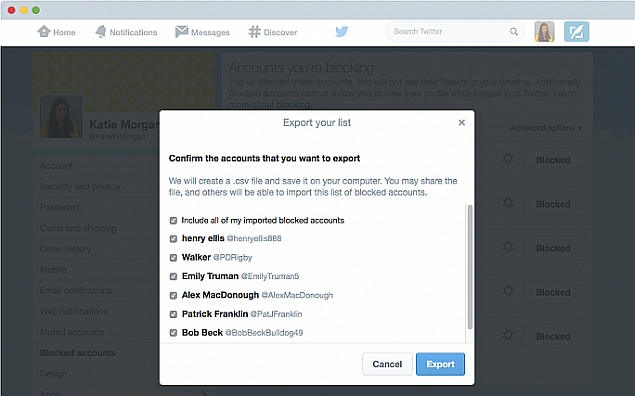 Users would simply need to navigate to their blocked accounts settings and click on the 'Advanced Options' tab placed on the top right to export or import a list. To download the list of blocked accounts, Twitter users can select the 'Export your list' option in the Advanced Settings dropdown and then select the accounts they want to export the list.
Talking about security, Twitter in April overhauled its safety policy by removing abusive and hateful tweets from the website. In March, the micro-blogging network updated its rules to ban 'revenge porn', which is the tweeting of intimate images on people without their permission.
For the latest tech news and reviews, follow Gadgets 360 on Twitter, Facebook, and subscribe to our YouTube channel.
Related Stories