Twitter has launched its free Curator tool for media organisations globally. The service lets firms discover, filter and display related Twitter content on any screen.
First unveiled in February this year during the News: Rewired Conference in London, the service was until now under beta testing by large organisations.
However, starting April, media outlets will now be able to integrate curated tweets and other content on their TV newcasts, programmes, websites or even mobile apps easily using the service.
With Curator, the broadcasters can narrow down the Twitter feeds and display them based on filtering factors like @mentions, location, language, time zone, follower count, number or retweets and more. Additionally, the service works as a search tool for Vine videos. It can also pull live-streamed popular Periscope videos using a set of filters with an appropriate keyword.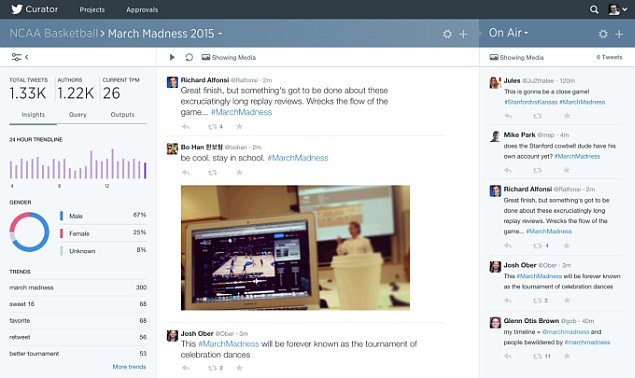 Curator, which is said to be a potential competitor to Storify, a similar tool already used by a number of firms, might bolster Twitter's own user base by reaching out to those who don't necessarily use the microblogging service. Notably, Twitter is not offering any analytics services alongside Curator, but says (via TechCrunch) the service is actually a "baseline product" that other social media marketing firms can help extend for organisations including support for customisations.
Twitter has been lately trying to expand its audience via several means. The firm last month launched Periscope, a live video streaming app. Users can simply activate the camera and record the videos live streaming it on the app. Users can also leave comments, making it like a live YouTube broadcast.
The social media giant also announced the ability to tag locations in tweets via the Foursquare service. The new feature will let Android and iOS users include precise location (e.g., the coordinates of the street intersection where they tweeted) in addition to the location label that the user selects.
For the latest tech news and reviews, follow Gadgets 360 on Twitter, Facebook, and Google News. For the latest videos on gadgets and tech, subscribe to our YouTube channel.
Related Stories