A study involving 170,000 Internet users across 32 countries has found that more and more teenagers are spending more time on instant messaging apps than on Facebook.
Nearly 66 percent of teenagers (aged 16-19) in the US and Britain said they were using Facebook less frequently.
While the teenagers are not off the social networking site completely, the interactions have dropped and the group is more passive about the site as a whole, revealed the new "Social Summary for Q3 2014" from market research firm GlobalWebIndex (GWI), with analysis also reported on its blog post '50 Percent of Teens Are Bored of Facebook'.
"Even though Facebook has more users, activity such as photo sharing and messaging has fallen off by 20 percentage points in the last two years," the findings showed.
Nearly 30 percent of teenagers said they are not on Facebook as often because their friends have gone on Instagram and other messaging apps, StreetInsider.com reported.
The report found that although Facebook has a drop in active users, its Messenger is very popular among teenagers, even leaving WhatsApp behind as the most used messaging app.
Snapchat turns out to be the real winner among teenagers.
"Snapchat has the youngest audience of any social app and usage ranges from 25 percent to 40 percent of all online teenagers in key markets such as the US, Britain and Canada," the report added.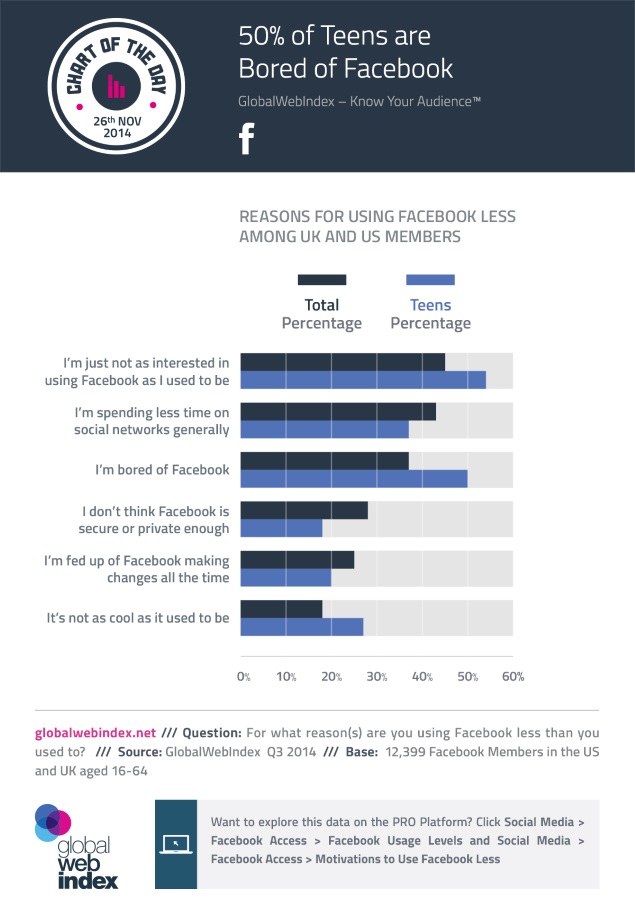 For the latest tech news and reviews, follow Gadgets 360 on Twitter, Facebook, and Google News. For the latest videos on gadgets and tech, subscribe to our YouTube channel.
Related Stories