Facebook, besides introducing new video tools and features to take on YouTube, seems to be taking hints from LinkedIn by testing a similar profile tags feature. Users can either tag themselves, or friends can tag users.
The social media giant confirmed the testing of the feature to The Verge, and said, "Profile tags are a creative tool that lets you and your friends add tags to your profile to highlight the things that describe you and what you're into." The feature is said to have been created as a part of internal Facebook hackathon, and only visible in New Zealand for now. There are no details of when the feature will roll out to other regions.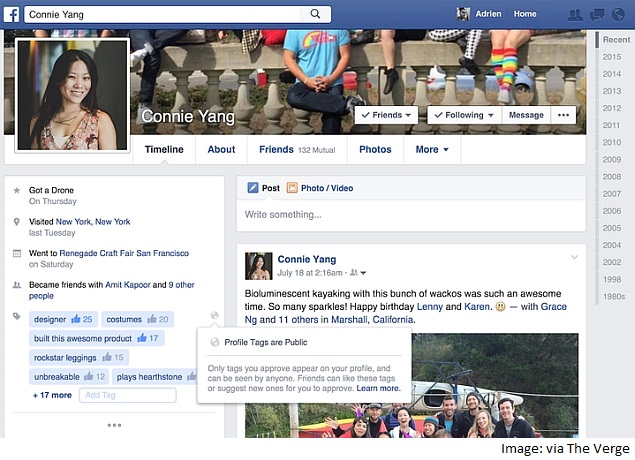 Apart from creating their own tags, Facebook users would need to approve the tags made by others, before they become visible on the profile page. Users can make tags on almost anything they want, even emojis. The tag insert box would be shown under the profile page of the user, once the pilot programme goes live for all.
Speaking to The Next Web, a company spokesperson further elaborated on the feature in testing.
In addition to the standard ways of letting people know who you are on your Facebook profile, profile tags let you express your identity in a more informal way. We believe that friends can also add a unique perspective to who you are and what makes you special that you may not even think about putting on your profile.

For example, when you introduce friends to each other, you might share a unique characteristic or something they might have in common, like "...Connie is an avid cyclist too!"

This strengthens bonds between friends and helps Connie's new friends learn something interesting about her. Now you can do this on Facebook too: compliment your friends, make your friendship even stronger and help others learn interesting and fun facts about your friends.

A week ago, Facebook revealed two new major updates for Page admins, giving them more customisation options when distributing videos on the social media website. The company also announced a new Video Library, where the Page owners can manage their videos. Using the Video Library, users can edit a video's metadata after upload that also includes adding of subtitles and changing the video thumbnail, control video distribution, prohibit third party embeds, publish to News Feed, and more. The firm is also reportedly testing 'watch later' video feature on its desktop version.
For the latest tech news and reviews, follow Gadgets 360 on Twitter, Facebook, and Google News. For the latest videos on gadgets and tech, subscribe to our YouTube channel.
Related Stories