Facebook has introduced a new feature called 'Anniversary story' for users who have shared the dates of their relationships or weddings on their account, and they will also receive a congratulatory message saying "Happy Anniversary from Facebook!"
The message will appear in News Feed of their Facebook accounts on their anniversary day with five pre-selected photos of both the partners. Users will also be able replace these photos from previously tagged images of their choice, or can upload new photos from their computer to include in the story.
In order to select the audience for their Anniversary story, the couple can use the share feature by clicking on Review and Share button at the bottom of the story or can opt out of it.
In the meanwhile, Facebook is targeting the improvement of the mobile app experience for users in emerging markets like Africa. The social networking giant has reworked its Android app (a part of it has been already rolled out in a recent Facebook mobile app update) to improve slow start times and other aspects on various devices.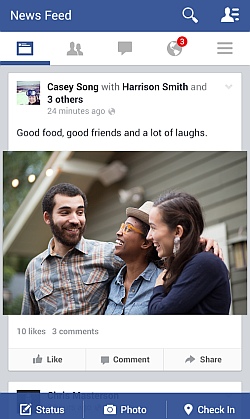 Looking to rework the Android app for speed and reliability, Alex Sourov from the Facebook Engineering team published a blog post titled 'Improving Facebook on Android', explaining the efforts by the company, as a team travelled to Africa for testing the Android app's performance in developing countries.
"However, our mission extends far beyond building and delivering the best experience on high-end smartphones and LTE networks. We want Facebook to work for everyone - no matter the region, network condition, or mobile device" said Sourov on the blog post.
The team of product managers and engineers travelled to Africa and tested the latest version of Facebook's mobile app on several Android smartphones, and the process turned out to be difficult in low-bandwidth network conditions and less onboard storage on budget devices resulted in slow load times and constant crashes.
From the testing, the development team improved several areas resulting in Facebook app now being up to 50 percent faster in initial start time, using up to 50 percent less data, up to 80 percent reduction in loading images, and up to 65 percent decrease in the size of the app on devices, according to the company.