Facebook is testing a new 'floating' video feature in the News Feed that will allow users to keep scrolling while watching the video.
Some Facebook users have noticed a new button appearing (screenshot below) on the default player of the social platform that allows a video to work as pop-up video on their News Feed.The Next Web reports that once the button is pressed, the video pops up and plays in a floating video style and initially appears on the bottom left side of the screen. The pop-up video can however be dragged anywhere on the screen.
The report adds that users can "like or share" the video at any point. Further, the report claims that the floating video goes away when a user heads to a different page. As of now, it's not clear whether the feature is being rolling out to limited users or is in initial testing phase.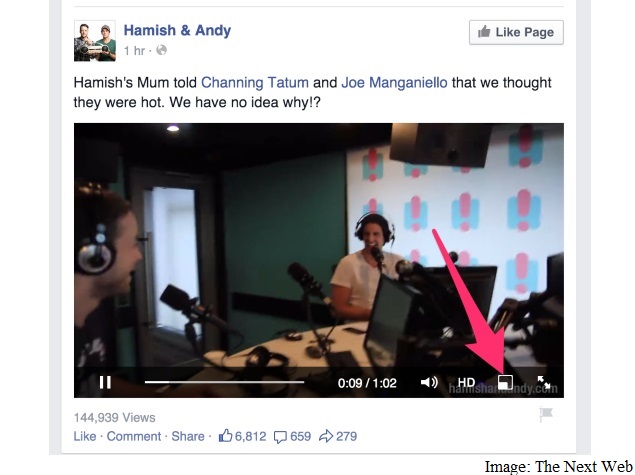 Facebook has been making some inroads in video ads - in a move that would compete with Google-owned YouTube - as the company recently announced that it will share advertising revenue with video creators who publish on the social network in trial. The company is ready to match the revenue split offered by Google's YouTube, offering the content creators 55 percent of the proceeds of ads that run next to their videos.
The advertising model was being tested by the company as part of a "Suggested Videos" feature designed to recommend clips for people based on snippets they tune into in News Feed at Facebook.
Last month, Facebook made some changes to its News Feed algorithm in the video section. The company aims to personalise the News Feed to prioritise videos to near the top of the feed depending on users' interaction levels with them. Facebook says such changes in its testing resulted in people watching more videos that were relevant to them. The changes took into account more metrics than just likes, comments, or shares.
For the latest tech news and reviews, follow Gadgets 360 on Twitter, Facebook, and Google News. For the latest videos on gadgets and tech, subscribe to our YouTube channel.
Related Stories