A survey by Facebook has indicated that the social platform may soon allow users to monetise their content. The feature however is currently said to be available to limited users with verified Facebook accounts only.
Spotted first by Casey Newton of The Verge, who has a verified account, Facebook looks to take feedback from select users on what type of revenue earning would interest them.
The survey screenshot posted by The Verge shows a question followed by several options. It says, "Consider the following options for promoting your cause or earning money using your personal presence on Facebook. Which of these would you be interested in?" This is followed by some options including Tip jar, which means a place where fans can tip the user money; Branded content, which will allow users earn money when posting with brand they have a sponsorship arrangement with; Sponsor marketplace, which will be a place where users can match up with advertisers for sponsorships; Donate option, which will allow fans to donate to a charity; Call to action button, which will offer option to buy something or sign-up, and Revenue sharing, which will allow the user to receive a share of revenue generated by ads in the post.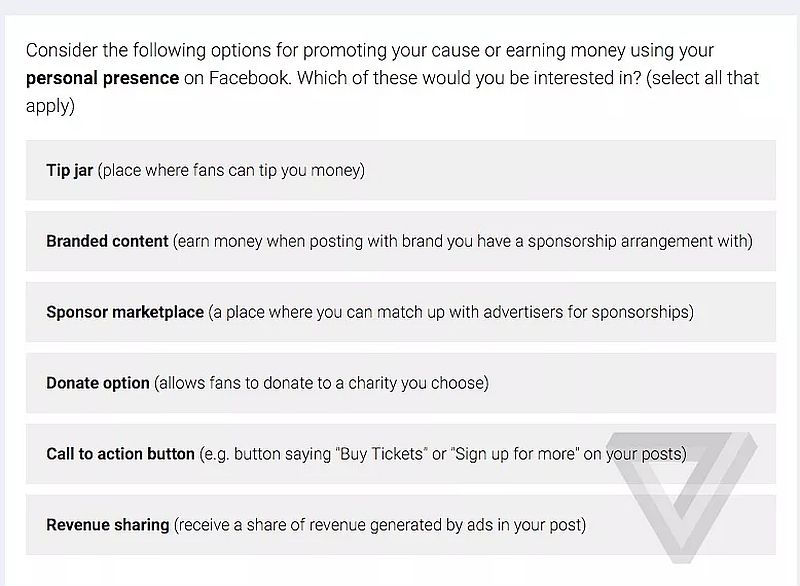 (Also see: How Facebook Is Slowly Eating the Rest of the Internet)
Newton adds that the language of the questions indicated that the feature was available to only select users.
The company as of now has not confirmed plans for user-centric monetisation. On the feature, a Facebook spokeswoman told The Verge, "It's still very early, but we're committed to creating sustainable, long-term monetisation models for our partners and we're listening to feedback."
It's worth noting that the Facebook survey questions were part of a larger set of questions as Newton points out they were "aimed at asking people how they use their personal profile pages, what kinds of things they share there, and whether their Facebook friends comprise mostly real-life acquaintances or people the user has never met in person."
Facebook has been lately adding new features to its platform as well as its other associated products. The company was rumoured to soon add in-store payment option for goods and services in its Messenger app. In India, Facebook recently added hyperlocal listing of service providers.
For the latest tech news and reviews, follow Gadgets 360 on Twitter, Facebook, and subscribe to our YouTube channel.
Related Stories