Facebook yesterday consolidated its set of offerings to its page administrators and simultaneously reduced some of its third party competitors to dust. The new Facebook scheduled post feature enables page administrators to decide when they would like to post a specific status without physically needing to post it. This feature was previously available only in third party apps like HootSuite, Social Tomorrow etc.
The innovative feature is available as a clock icon on the bottom left of the status screen and lets you decide the precise year, month, day, hour, and minute you wish to set the post. All future posts can be viewed in the Activity Log and can be scheduled up to six months in advance at ten minute intervals. Setting a date in the past will make the post appear immediately and all status updates will cater to the current time zone you are in. All the instructions have been listed on the separate help center page.
Though many users have been looking forward to this feature but it come with its own set of disadvantages. The small clock is barely noticeable and most administrators will miss it unless they are specifically informed about this change. Secondly, the posts are allowed only in ten minute increments and a post has to be uploaded at a minimum ten minutes before its viewing time. Also, once posted, that future post cannot be deleted, but can only be postponed. This particular feature may attract widespread dissent from administrators.
Considering the backlash, we expect Facebook to address this concern soon.
The scheduled post feature comes combined with another tweak, which allows post delegation within the page allowing the administrators to assign different roles without needing to share their own administrative rights. The manager has all powers and can promote, demote, create ads, schedule posts. The insights analyst possesses the least, though it's not really specified what "view insights" entails. A breakdown of the roles is given as follows: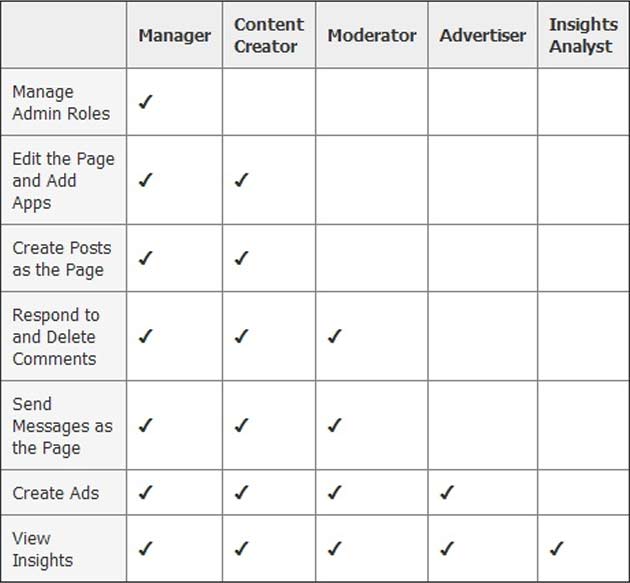 To set these permissions on your own page, go to the top right corner of your screen and hit 'Manage,' then select 'Settings' in the drop-down. It's a nifty trick which will definitely make all administrators feel important but for people such as the unsatisfied boss and the naive intern, this feature is a boon.
These changes certainly could do well to lure social media teams away from third party management apps by offering some of these key features. However, Facebook has not mentioned if schedule SMS features will be available for profile users as well and if so then by when.
For the latest tech news and reviews, follow Gadgets 360 on Twitter, Facebook, and Google News. For the latest videos on gadgets and tech, subscribe to our YouTube channel.
Related Stories