The Shahenshah of Bollywood Amitabh Bachchan has been quite pro-active on social media. He has been on the micro-blogging site Twitter and has over 3.3 million followers! He had recently launched his tumbler blog and now looking to get a significant presence on social networking site Facebook.
Amitabh Bachchan's Facebook page became live on August 21, 2012 at 9:30 AM and will be a one stop destination for his fans to connect, interact, engage with the ace actor. It will also provide up-to-date information about Amitabh's upcoming movies, exclusive pictures, videos, as well as exclusive pictures from Amitabh Bachchan's private collection and a welcome video by Amitabh on the new official Facebook page.
Speaking on the launch of his official page, Amitabh Bachchan said "I feel that my official Facebook fan page was long overdue. Facebook is a powerful tool that helps bring people together and allows us to embrace being a part of a larger community. I have been encouraged by the overwhelming reception to my tumblr blog, and this is another avenue to reach out to my fans, not only in India, but globally."
Amitabh's Facebook page has a Timeline view, which goes right from his birth to now. It also has interesting pictures of some of his most talked about work in movies like Sholay, Kaala Pather et al
Within just half an hour of the going live, Amitabh Bachchan Facebook page had close to eight lakh likes. He even tweeted about this feat and shared his excitement and nervousness about being on Facebook.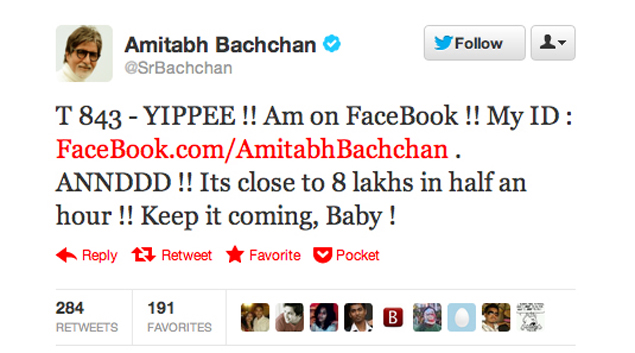 Apart from Amitabh, Aamir is another B'Town celebrity who has been quite active on Facebook. The perfectionist Khan has over 5 million likes for his Facebook page and has even indulged in a video chat with his patrons.
For the latest tech news and reviews, follow Gadgets 360 on Twitter, Facebook, and Google News. For the latest videos on gadgets and tech, subscribe to our YouTube channel.