The Fifa World Cup 2014 has an audience that stretches across the globe. So it's no surprise that sites like
Twitter
,
Facebook
and
Google
have also geared up to give people all the information and highlights from the World Cup as it happens, in real time.
Here's a look at what the big three sites are doing for the Fifa World Cup in Brazil.
Google
Google has announced something it calls "Oneboxes for World Cup", which show the live results, schedules, game and team stats and lineups. If you just search for "world cup", or anything related, you get a card bearing the latest results before the search results. You can also see the live results as Google Now cards, on Android and iOS, as well as things like match line-ups.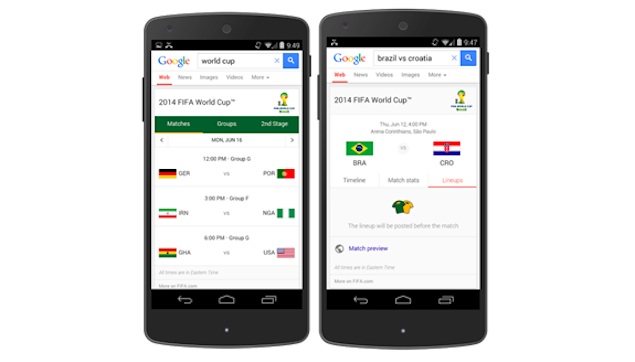 Google's knowledge base has also been expanded with a lot of football related information, and you can, for example, search for "Most popular soccer player" to see a carousel of top footballers. There's also a World Cup hub you can see here which gives information about the matches as they happen, and listing upcoming matches.
Google VP Brand Solutions Dan Cobley also shared this very useful post on Google+ which people can use to quickly add the entire World Cup schedule to their Google Calendar. The best part is that the schedule will automatically update as the teams qualify or get sent home.
Oh, and if you feel like walking around the venue, even if only virtually, then Google has you covered, with street views for all the venues for the world cup. Google announced that users can explore all 12 stadiums, and take a walk through the painted streets of Brazil, thanks to Street View.
People can also of course make use of things like Google Calendar to set up a series of reminders to watch specific matches, Google Alerts to get mails on the latest match results and, if all else fails, there's always that search bar.
Facebook
Not to be left behind, Facebook also has created a lot of content for the World Cup. At the World Cup hub, visitors can see posts from their Facebook friends that relate to football, and also from the pages they follow. Aside from that, links from pages that publish football news are also displayed.
This will include not just news outlets and blogs, but also posts from the different football teams and player's pages will also be shared. Beyond that, Facebook has also included an interactive map that shows where posts for the top 10 players are coming from, across the globe. Neymar is, predictably enough, the most popular footballer in Brazil, but Indian fans seem to be more interested in Ronaldo and Messi.
When the matches take place, the page will also show the latest scores and highlights as they happen live. Facebook also has a public page for Facebook Ref, which it cheekily describes as the ''Official' official of the Tournament' who will be providing 'colourful' commentary and updates for the games.
Twitter
Twitter has also got some world cup specific functions, starting with "hashflags" - enter a hashtag followed by a three letter country code and you can tweet the flag of the team you're supporting. But there's a lot more.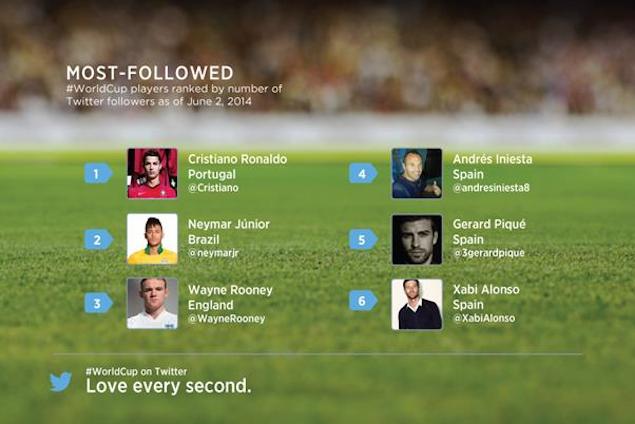 (Also see: Fifa World Cup 2014 Will Be the Most Tweeted Event Ever: Twitter)
For instance, if you visit the hashtag #WorldCup then you can see not just all the tweets related to the tag, but also a live scoreboard, links to the various team handles, and the option to look at tweets, people or photos and videos. The hashtag will also have links to custom timelines for individual matches, so you can follow along on a match-by-match basis.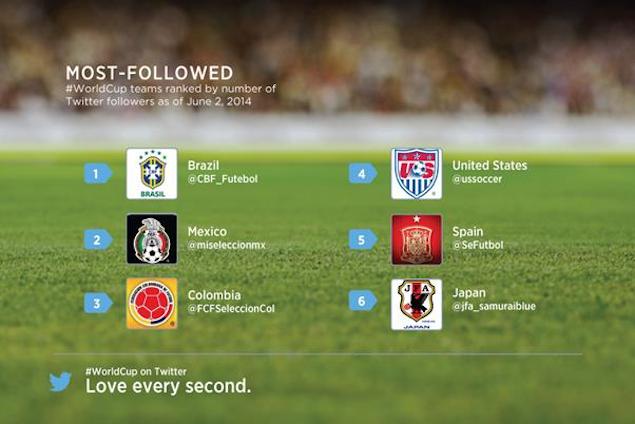 You can also go to the team accounts page to see the accounts of 30 of the teams participating, out of a total 32 nations. The page also lists the Twitter accounts of top players, coaches and the official Fifa account.