Over the Christmas weekend, Chris Daniels, Vice President, Product - Internet.org at Facebook, hosted an AMA on Reddit to talk about Free Basics, Facebook's controversial zero rating program. Daniels spent a little over an hour on Reddit, and answered six questions in that time, with a total of 13 comments. While Facebook CEO Mark Zuckerberg has written a blog post about why Free Basics is important and should not be blocked, Daniels' AMA was hosted with an aim to communicate what Facebook/ Internet.org/ Free Basics has done, and to clear up misconceptions.
The actual conversation between Daniels and users on Reddit's r/India sub however did not go into too much detail, as most users (and Daniels himself) seemed to have arrived with large clipboards of text ready.
Daniels did confirm some things about Free Basics which Facebook has already spoken about. For instance, he confirmed that Free Basics is ad-free and that there are no plans to bring ads into the service. At the same time, he didn't rule anything out, and says that if ad revenue could pay for access, "then we want to explore that in the future."
(Also see: Free Basics vs. Free Internet: Your Guide to the Raging Net Neutrality Debate)
He also recognised that "people are rightfully nervous that we [Facebook] will act in our interest rather than the interest of the entire Internet ecosystem."
However, Daniels added that Free Basics is an open program, with fewer restrictions than in its avatar of Internet.org. "When we heard the fair feedback," he wrote, "we opened the program. We don't reserve the right to reject apps for arbitrary reasons. We used to have a line that did grant us that right in our participation guidelines as a catch all for things like local law compliance, but that was causing consternation. Now we've simply made it clear that the apps have to comply with local law."
"We are also happy to have a third party audit [of] apps we accept and reject and why, and we've proposed this to IAMAI and Nasscom," he added. However, it's worth pointing out that Facebook's technical guidelines mean that it does not need to reject apps to keep them off the Free Basics platform.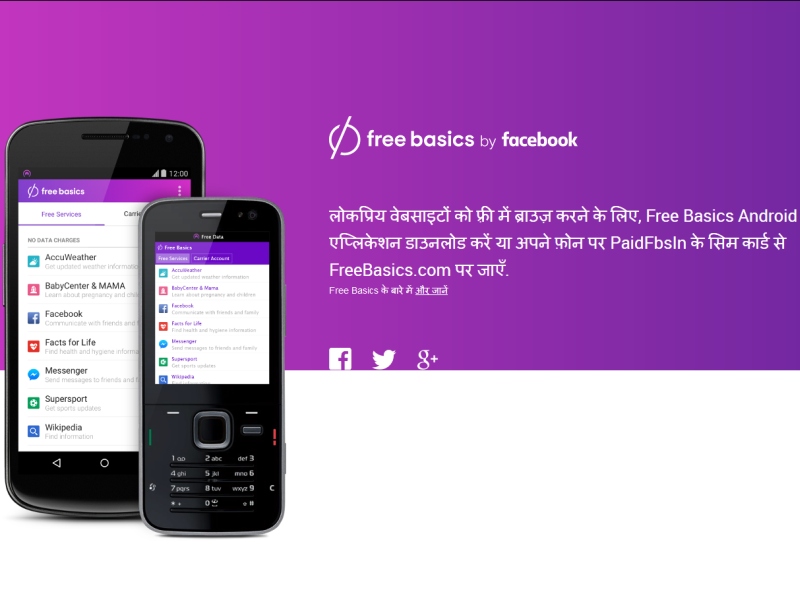 Free Basics does not allow Java Script, Video, or Flash, so sharing of videos becomes impossible. HTTPS is also allowed only with a "dual certificate"; a mutual authentication process where Facebook is able to read data passing through the Free Basics platform. Now, Daniels of course says that Facebook does not actually read this data; whether or not that's the case, would competing products, such as Twitter, and Google for example, be willing to offer their services and all their user data freely to a Facebook product?
The answer is no, that's highly unlikely. On Free Basics, Facebook's competition would likely not be present, and more importantly for Indian users, new disruption would not be supported. Another issue with the approval process of course is that it would take time, and as we learned during the Chennai floods, a fast response without having to worry about technical compliances helped one of the most important relief initiatives to come about; something that wouldn't always be possible if the majority of users were restricted to Free Basics.
Of course, as Daniels points out, the goal of Free Basics is to showcase the value of the Internet, and help convince users to pay for data access. This is the pitch that brings the telcos on board, and they are the ones who are footing the bill for Free Basics' data access, according to Daniels. According to him, "within a month, 50 percent of people who had started their journey with Free Basics are paying for the entire Internet and have the ability to [access] every service. Only single digit percentages of people are only on Free Basics after that month."
This doesn't take into account the massive advertising campaign that Facebook has been carrying out for Free Basics, but Daniels refutes this and points out that its relative cost versus all the other effort and resources and other Internet.org initiatives is miniscule.
However, one thing that Daniels shared in the AMA particularly stands out. Research carried out for Facebook surveyed over 3,000 people in India, and showed that 9 out of 10 people supported Free Basics. That sounds quite definitive but when you actually go through the additional details that Daniels provided you get a better picture. The poll was conducted door to door, and both sides of the argument were discussed with participants.
When you look at the point that were used to argument against Free Basics in the survey, you end up with a simplistic, non-nuanced strawman argument that anyone would disagree with. Here are the full arguments against Free Basics that were used for the survey.
1. When the Internet is restricted, it means India is weaker. To be strong, the Internet should be free and open to everyone.

2. Free Basics is just a scam by Facebook to try to get more people to use their site. The only reason they care about people without Internet is because they want to make more money.

3. Free Basics creates a world with two types of Internet: one for rich people and one for poor people. It's important that everyone has access to the same Internet.

4. Free Basics has given Reliance a monopoly by partnering with them and no one else.

5. Free Basics does not protect its users, many of whom are new to the Internet and will be exploited by the service.
The question is whether the arguments against Free Basics were written by Binder and Hansa research, the company that conducted the survey, or provided by Facebook. If it was the former, then this looks like a fairly incompetent survey and can be dismissed right away. If it was the latter, and if it wasn't just an attempt at forcing a result, then it shows us just how limited Facebook's understanding of the issues and criticisms being raised is. While there is no doubt a lot of empty rhetoric and hectoring being directed at Facebook, to focus on just that while ignoring real questions, is as shortsighted as banning platforms that could be used to provide social good without thoroughly exploring its possibilities.
That's something that most of the people who replied to Daniels' post about the survey also pointed out, but then the topic received no further replies from him.
While the AMA session proved to be short on details and insight, it did show readers one thing - that Facebook is determined to see Free Basics through, and is committing enormous resources to the project.