If your social media profiles contain countless priceless memories that you aren't ready to part with, then you might want to store a copy offline. The world's most popular social networks let you download all your data, which might also be useful if you're planning to delete your profiles. Downloading these profiles can take a lot of time, depending on how much you've shared, since you may have saved many thousands of photos, so make sure you have some free time when you start this process. With that said, here's how you can go about it.
(Also see: How to Delete Facebook, Google+, LinkedIn and Twitter Account)
Facebook
The world's most popular social network - Facebook - lets you download your posts, photos and videos you've shared, your messages, chat conversations and information from the About section of your profile. You can download the data easily, but the option is not easy to find. Here's how you can find it.
1. Open Facebook settings.
2. The last option, under Language, is "Download a copy of your Facebook data." This is written in small font size and it's hard to tell that only "Download a copy" in that sentence is actually a link. Click it.
3. In the next page, click Start My Archive > click Start My Archive again in the pop-up > enter your password > click Submit.
4. Facebook will send you an email with a link to a zip file, which you can download and view all your data offline. The data is in an HTML file, which means you can open it in any browser.

Google
Google has a tool called Takeout which lets you download all your account data. It supports 17 products at the moment, including Gmail, YouTube, Hangouts and Google+. Downloading your data is pretty straightforward, just follow these steps.
(Also see: How to Download Orkut Profile)
1. Go to Google Takeout > click Create an archive.
2. This will open a page where you can select the services from which you want to download your data. By default all services are selected, so uncheck what you don't want. You can also select formats in which you want your data by clicking the Edit button next to each service. For instance, you can select whether you want contacts in vCard or HTML format.
3. Once you are done with the selection, click the red Create Archive button at the top.
4. Now Google will start creating an archive of your data and will email you when it is ready. This may take a lot of time, so be patient. When it's done, your data will be available in a zip file.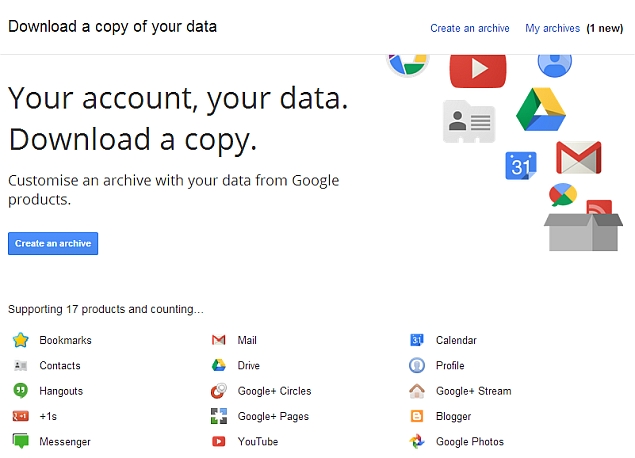 Twitter
Downloading Twitter data is a simple process. Twitter will take some time to create an archive of all your tweets, so don't expect instant results. Follow these steps for an offline archive of all your tweets.
1. Go to Twitter settings.
2. Scroll down to the bottom of the page and click Request your archive.
3. Twitter will mail you a link to a zip file when the archive is ready. Your archive is available in three formats - HTML, json and csv.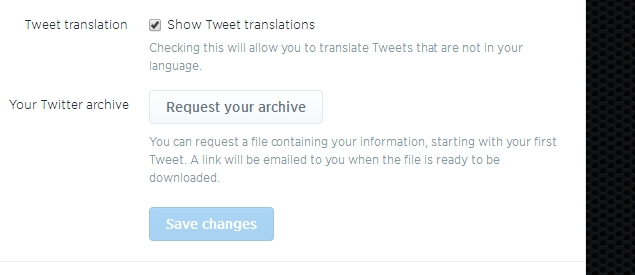 We hope this helped you download your social media data. For more tutorials, our
How to section
is where you should go. If you have any suggestions or want to share your experience of downloading your data, use the comment box below.