Spending too much time on Facebook? Tired of the constant stream of LinkedIn notifications? Maybe it's time to take a break from social media. While the easiest option is to log out and stay out until you're ready for these sites again, it may be a better idea to delete these accounts altogether in order to avoid that urge to log in every day.
If you're not ready for that yet, you can always check out our guide to cleaning your social media accounts instead. If you've made up your mind though, here's a step-by-step guide to help you delete all your social media accounts.
Please note that while some services may let you reactivate your account where left off should you have second thoughts, at most all your data is gone once you click on that delete button - so make sure you know what you are doing before proceeding.
Gmail
These days, almost everyone uses a Gmail account. In case you've decided to move on to another service though - or just want to delete an old account you no longer use - here are the steps you need to follow:
1) Head to this Google accounts page and log in.
2) Here you will see three links, one to remove Gmail without deleting your Google account, a second to remove Google Books and a third to close your Google account and delete all services. If you're sure about removing your Gmail account, click the first link. You'll see a warning page right away.

3) Now you will see a confirmation page. Click the check-box saying "Yes I would like to delete", enter a new primary email address you will use for other Google services, enter your Gmail password in the dialogue box,and click Remove Gmail. This will delete your Gmail account. Just to reiterate Google's warning, there's no coming back from this step, and all your mail will be gone forever.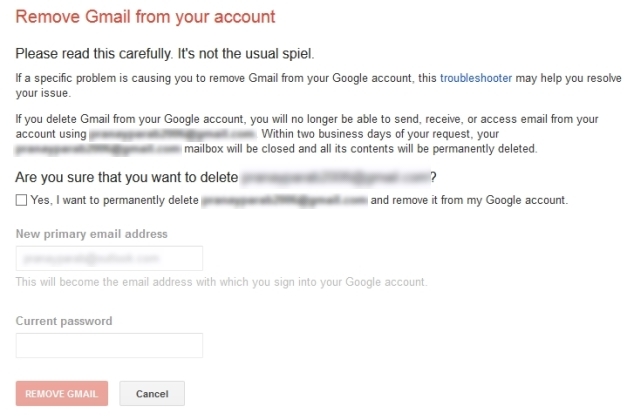 Facebook
Facebook makes it very difficult to delete your account. You won't find the option to delete your account permanently simply by looking through the settings. To find that page, you can either to go to Facebook's help center or you can follow these steps:
1) If you're not sure whether you want to permanently remove your Facebook account, you can deactivate it. This way, you can rejoin within 30 days without losing your data. To do that, head to Facebook's security settings page.
2) Now click Deactivate your account. This link is buried beneath "When you're logged in" and you are unlikely to see it unless you're looking for it.
3) Facebook will now try to emotionally blackmail you into reversing your decision. If you ignore the photos of the people who "will miss you", you can select any reason and click Confirm.
4) If choose to delete your account permanently, go to Facebook's account deletion page and click Delete My Account.
5) You'll see a pop-up, where you'll have to enter your password and characters shown in an image (captcha). Click Okay and then click Okay again in a second pop-up. Facebook gives you a chance to change your mind - if you log in anytime in the next two weeks, Facebook will reactivate your account.
Twitter
If you'd rather stay away from the constant stream of tweets on this website, follow these steps to remove your account:
1) Head to Twitter settings and scroll to the bottom.
2) Now click Deactivate my account, which is a link below the Save changes button.
3) Twitter will give you a warning about what this means. If you're sure, you need to click on the Deactivate button. This will deactivate your Twitter account. If you change your mind and choose to return to the social network, you will have to log in within 30 days. After 30 days, Twitter will permanently remove your account.

Google+ & YouTube
Did you accidentally sign-up for Google+ from your Gmail account? It is extremely easy to delete your Google+ profile but it can have some unwanted consequences. First, your YouTube account will be removed too. Yes, all your YouTube comments will be removed and if you have a channel, it will be disabled. Secondly, you will not be able to leave reviews on Google Play store. This is because Google has integrated all three services together.
If you still want to take this step, this is what you need to do:
1) Go to the Google+ Downgrade page and sign in with your Google account.
2) Now scroll down all the way to the bottom and click the check-box next to "Required: Yes I understand that...".
3) Click Remove selected services. This will delete your Google+ and YouTube accounts.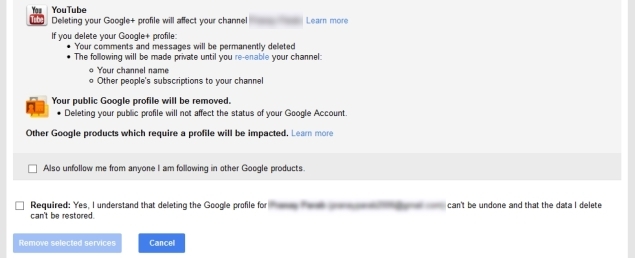 LinkedIn
The world's most popular career database, LinkedIn, can be quite annoying with its constant notification emails and updates that land in your inbox. Luckily, they've made it pretty easy to delete your account. Here's how:
1) Open LinkedIn's Privacy & Settings page and sign in.
2) Click the Account tab next to the shield icon near the bottom-left of the page.
3) Under the Helpful Links section, select Close your account.
We hope this article helped you close accounts on various websites. If you'd like to read more tutorials like this one, you can always check out our How to section. In case you have any queries or opinions regarding this tutorial, feel free to reach out using the comments section below.
Affiliate links may be automatically generated - see our ethics statement for details.