Was your Facebook, Twitter, Gmail or LinkedIn account hacked? The first thing you should do in such cases is change your password. Even if your accounts are safe, it is safest to keep changing your passwords. If you're having trouble with that and even if you forgot your passwords, this guide will help you solve your problems.
Gmail
Of all your accounts, Gmail is the most important because you use your email to login to almost every other website. Make sure that you have a password with uppercase, lowercase letters, numbers and symbols for this account, to make the password harder to crack. To change your password, follow these steps.
1) Open the Google security settings page and click Change password.
2) This will take you to the page where you can change the password. Enter your current password once and the new password twice. Click Change password. That's it.
(Also see: How To Stop Google From Tracking You On The Web)

Forgot your password? This is what you need to do.
1) Open Gmail and click Need help? under Sign in.
2) Choose I don't know my password and enter your Gmail address.
3) Next, you can enter the last password you remember. If you don't remember any passwords, click I don't know and Google will send a password reset link to your secondary email address.
4) If you didn't set a recovery email address or can't access that address, then you can click Verify your identity and answer various account-related questions to prove your identity. If you succeed, you'll be able to reset your password.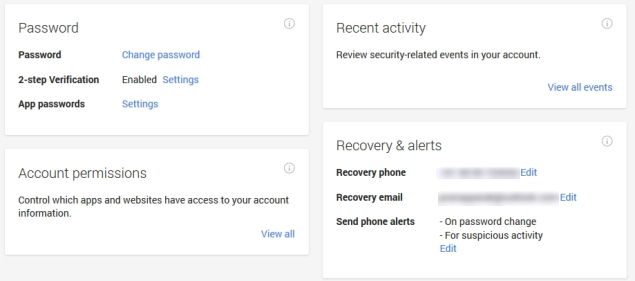 (Also see: Seven Extensions That Make Gmail Better)

Facebook
If you log in to Facebook from public computers such as those in a cyber cafe, you might want to change your password frequently. Here's how you can do that.
1) Go to Facebook's settings page and click on the Edit button next to Password.
2) Now key in your current password and the new password. Click Save Changes when you're done.
If you can't remember your Facebook password, go through these steps.
1) Open Facebook and click the Can't log in? Link under the password form.
2) Now enter your email address, phone number or full name and click Search.
3) Click I forgot my password and click Continue.
4) Facebook will offer you three options: use your Google account to sign in, send a link via email or send link to your phone. Pick what you prefer and click Continue. Open the link and you can reset your password.
(Also see: How to Clean Facebook, Twitter, and Other Social Websites)
Twitter
Hacked Twitter accounts can be very embarrassing, because unless your account is protected, all your tweets are visible to everyone. You don't want spam links being tweeted from your account, so keep changing your password by following these steps.
1) Head to Twitter's password settings.
2) Here you need to type your current password and the new password and click Save changes. That's it.
If you forgot your password, try this.
1) Go to Twitter, click the Forgot password link under the password form.
2) Enter your Twitter handle, email or phone number (if you've linked it). Click Search.
3) Now Twitter will ask you to choose whether you want a password link on your email or phone. Pick one and click Continue.
4) Open the link Twitter sends you and change your password.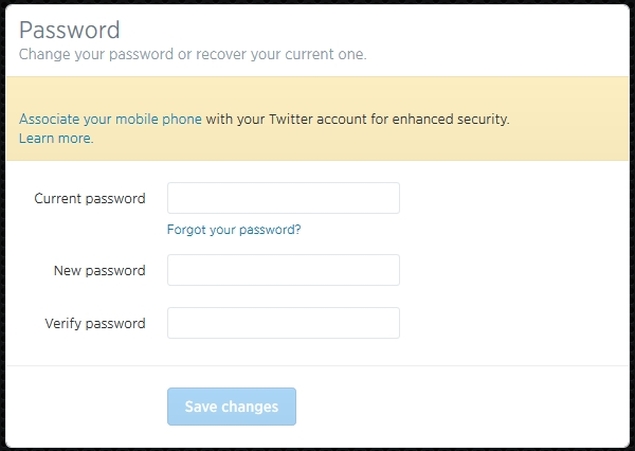 (Also see: Twitter Power Search: How to Find Old Tweets From Your Timeline)
LinkedIn
LinkedIn is essentially your online resume, so it is necessary to change passwords once in a while so that your account is safe. These instructions should do the trick.
1) Follow this link to open LinkedIn settings.
2) Click Change next to Password in the top-left corner.
3) Enter your old password, type your new password, and click Save changes to complete the process.
If you don't remember your password, you can try these steps.
1) Go to LinkedIn and click Forgot password? above the password form.
2) Now enter your email address and click submit address.
3) Open the link LinkedIn sends to your inbox and reset your password. This link is valid only for a day so make sure you sign in before that.

(Also see: How to Delete Gmail, Facebook, Twitter, Google+, YouTube, or LinkedIn Account)
We hope this tutorial helped you change your password. For more tutorials, head to our
How to
section.