The job requirements for the next chief executive of Twitter are forbidding.
The board of the social media company is looking for a savvy business strategist and product genius with experience running a public company. Any candidate must enjoy communicating with the world through Twitter's signature 140-character messages, with bonus points for using other products like its live-streaming app, Periscope, or short-video app, Vine.
The new boss needs to win over skeptical investors and inspire employees weary of the management chaos of the last year and a half.
And most important, Twitter's next leader has to be comfortable operating under the scrutiny of a board that includes all three previous chief executives of the company, each of whom was removed from the job before he really wanted to go.
"Who would walk into something like that?" said Charles M. Elson, director of the Weinberg Center for Corporate Governance at the University of Delaware.
As Twitter seeks to replace Dick Costolo, who plans to step down July 1, it could face significant challenges attracting outside candidates.
Many on Wall Street and in Silicon Valley believe the board will eventually hand the job to Jack Dorsey, Twitter's chairman and co-founder, who was appointed interim chief executive even as he continues to serve as chief executive of Square, a payments startup that is facing its own growth challenges.
Dorsey - who was fired once as chief executive, in 2008, then returned briefly to the company to oversee product development in 2011 - has never lost his ardor for the company or belief in its potential to become the world's most important communication tool.
He has repeatedly declined to say whether he is interested in staying on as permanent chief executive. But he told the tech-news site Re/code on Tuesday, "I'm as committed as ever to Square and its continued success. I'm Square CEO and that won't change."
Dorsey did not respond to an email on Thursday requesting comment, and a Square spokesman referred to his statement to Re/code.
Twitter's eight-member board is ambivalent about the possibility of Dorsey's returning on a permanent basis, according to people with knowledge of the board's thinking, who spoke on condition of anonymity. Some directors doubt he has the right mix of skills to manage a complex public company, while others say they believe his passion for the product he helped create gives him an appeal that is unlikely to be topped by any outsider.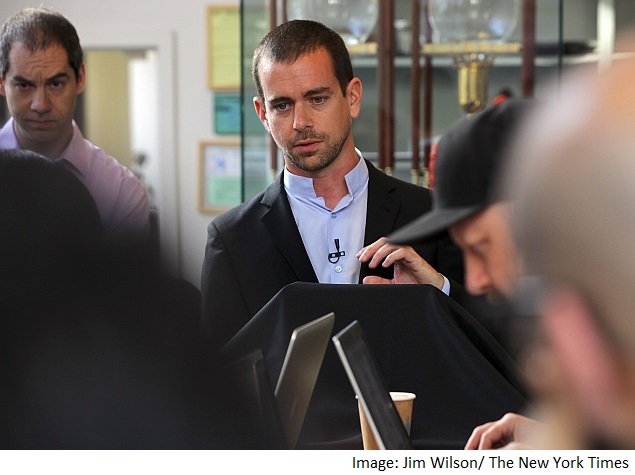 Wall Street has been troubled by Twitter's anemic user growth and constant management turmoil since its November 2013 initial public offering, and a key responsibility of the new CEO will be to soothe restless shareholders.
"Jack coming back full time would be very positive for employee morale," said Mark Mahaney, an Internet analyst who follows the company for RBC Capital Markets. "The question is whether Jack Dorsey on the product side is willing to break some typecasts at the company and come in with a fresh perspective."
When he was appointed last week, Dorsey said he planned to continue with Twitter's current strategy and team. On Thursday, the company confirmed that the strategy includes a major addition to its apps and website, code-named Project Lightning, that would make it far easier for both frequent users and casual visitors to find the top tweets about live events and breaking news.
The people privy to the board's discussions said that the chief executive search committee was interviewing executive search firms and is committed to considering a variety of candidates. The process is expected to take three to six months.
Dorsey would be seriously considered only if he were willing to commit to Twitter full time and give up his position at Square, those people said.
The two other internal candidates mentioned for the job - Adam Bain, president of global revenue and partnerships, and Anthony Noto, chief financial officer - are unlikely to make the final cut because they lack experience as chief executives at public companies, said the people with knowledge of the board's discussions.
Mahaney said it was unclear who on the outside would have the stature, technical expertise - and desire - to manage all of the company's constituencies.
Some board members have already discussed one favorite outside contender but do not know whether that candidate is interested, according to three people with knowledge of the board's deliberations.
Peter Currie, the director leading the search committee, was unavailable for interviews, a spokesman said.
In addition to Currie, the committee includes Evan Williams, a Twitter co-founder and former chief executive, and Peter Fenton, a partner at Benchmark, a venture capital firm that was one of the company's early investors. Williams was ousted from the chief's job by Dorsey in 2010 and harbors little affection for him, while Fenton is one of Dorsey's strongest supporters.
One challenge for any new chief executive will be dealing with the close relationship that Twitter's board members have had with other people in the company, dating to its formation in 2006.
Under Costolo, an advocate of an open management style, board members have been free to meet with key operating executives as they see fit, and sometimes even help with tasks such as recruiting employees. Longtime associates of the company, such as early investor Chris Sacca, often get prerelease access to new products like Periscope, the live-video app that Twitter released in March, and offer product feedback.
Costolo says he dines every Tuesday night with Dorsey. "He has this fluency about the way he thinks about the product and the way he thinks about its potential that's almost remarkable," Costolo said during an onstage interview Tuesday at a Bloomberg technology conference. "We talk about the company and the product and the kinds of things we're thinking about for hours."
He said that he hoped he could provide similar assistance to Twitter's next chief. "I think the benefit of that kind of institutional knowledge, and about the team and the product and things we've tried and learned, will be helpful," he said.
Jeffrey Sonnenfeld, a professor of management at Yale who has spent decades studying executive succession, said that directors, especially former chiefs, can serve as advisers to a chief executive but should not get involved in operations.
With Twitter's former leaders hovering in the background, "the employees are going to feel some kind of filial loyalty to one or all three of the predecessors," he said. Customers and others who deal with the company can also get confused about who is in charge. "They are going to go to the people they know," he said.
"This succession process indicates tortured decision-making by this board," Sonnenfeld said. "It's not reassuring."

© 2015, The New York Times News Service