US scientists have developed a 'smart' lithium-ion battery that alerts users of potential overheating and fire.
The new technology is designed for conventional lithium-ion batteries now used in billions of cell phones, laptops and other electronic devices as well as a growing number of cars and airplanes.
"Our goal is to create an early warning system that saves lives and property," said Yi Cui, associate professor of materials science and engineering at Stanford University.
"The system can detect problems that occur during the normal operation of a battery but it does not apply to batteries damaged in a collision or other accident," he informed.
A typical lithium-ion battery consists of two tightly packed electrodes - a carbon anode and a lithium metal-oxide cathode - with an ultra-thin polymer separator in between.
The separator keeps the electrodes apart. If it's damaged, the battery could short circuit and ignite the flammable electrolyte solution, which shuttles the lithium ions back and forth.
Cui and his colleagues applied a nanolayer of copper onto one side of the polymer separator, creating a novel third electrode halfway between the anode and the cathode.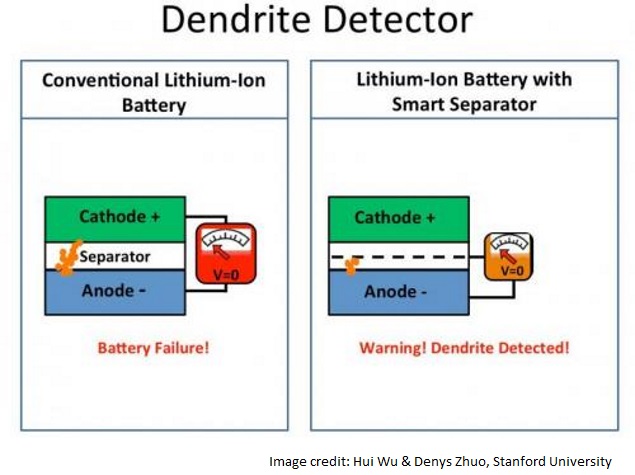 "The copper layer acts like a sensor that allows you to measure the voltage difference between the anode and the separator," explained co-author Denys Zhuo, a graduate student.
"Overcharging causes lithium ions to get stuck on the anode and pile up, forming chains of lithium metal called dendrites," Cui added.
When the dendrites grow long enough to reach the copper coating, the voltage drops to zero.
"That lets you know that the dendrites have grown halfway across the battery. It is a warning that the battery should be removed before the dendrites reach the cathode and cause a short circuit." he added.
The build up of dendrites is most likely to occur during charging, not during the discharge phase when the battery is being used.
"You might get a message on your phone telling you that the voltage has dropped to zero, so the battery needs to be replaced," Zhuo noted.
That would give you plenty of time. But when you see smoke or a fire, you have to shut down immediately. You might not have time to escape, the researchers concluded.
The paper was detailed in the journal Nature Communications.