A combined $5.25 million has been awarded to five
Google
Lunar Xprize teams, including one from India. The awards or Milestone Prizes are in three categories - Imaging, Mobility and Landing systems - which have been deemed vital to successfully complete the goals of the Google Lunar Xprize mission, which is ultimately aimed at encouraging teams to successfully land a robot on the moon.
Google awarded a total of nine Milestone Prizes to the five teams, with India's Team Indus winning $1 million in the Landing category. Google describes the landing system as all hardware and software required to support a soft-landing of the Google Lunar Xprize spacecraft on the Moon. Teams were judged for their attitude control en route to the Moon; systems for tracking and orbit determination en route to the Moon; guidance Navigation and Control (GNC) for the lunar descent (including sensors); avionics; propulsion; landing legs or touchdown devices; thermal control (e.g. related to GNC or propulsion); onboard autonomy, and interfaces to other subsystems
US-based Astrobotic, and Moon Express, also from the US, won the Milestone Prize for Landing systems, and both also won $250,000 each for the Imaging category alongside Germany's Part-Time Scientists. The $500,000 Mobility system prize was awarded to the German team, Astrobotic and Japan's Hakuto.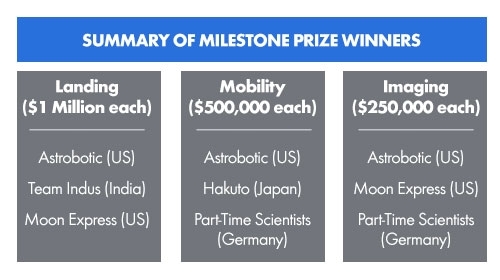 India's Team Indus, headquartered in Bengaluru, was selected to compete for two of the Milestone Prizes, the Landing Prize, and the Imaging Prize. Managed by Axiom Research Labs Private Limited, an aerospace startup company, Team Indus says it aims to showcase the creativity and capability of Indian entrepreneurs, promote higher scientific education, develop new home-grown space technologies and inspire an entire generation of young people. It is led by former IT professional, Rahul Narayan.
Narayan estimates Team Indus' Google Lunar Xprize project will cost the company $30 million to complete, and plans to use Isro's PSLV (Polar Satellite Launch Vehicle) for launch. Current specifications of the Team Indus' lunar rover, codenamed ECA, include: four wheels, front-steering, 40W body fixed solar panel, two front and two rear cameras, a 12kg weight, and dimensions of 400x500x600mm. The flight is expected to take 30 days, with up to 15 days of surface operations, and a Q4 2015 launch is still listed.
Robert K. Weiss, vice chairman and president, Xprize, said of the Milestone Prize winners, "The $30M Google Lunar Xprize is asking teams to accomplish a feat that has never been achieved-the safe landing of a private craft on the lunar surface that travels at least 500 meters and transmits high-definition video and imagery back to Earth. Congratulations to these five talented teams on winning Milestone Prizes. The goal of this unprecedented competition is to challenge and inspire engineers and entrepreneurs from around the world to develop low-cost methods of robotic space exploration and these achievements represent a pivotal moment in this important journey back to the moon."
If any of the five teams that have already been awarded win the $20 million Grand Prize, their Milestone Prize earnings will be deducted from the total, but as the possibility exists a new team may win, the Mountain View giant said it has increased the total purse of the Google Lunar to $40 million from $30 million.
The Grand Prize will go to the company that successfully manages before December 31, 2016 to land a robot on the Moon that moves 500 metres on, above, or below the Moon's surface and can transmit back HDTV Mooncasts, all with no more than 10 percent government funding. Google has revised the Lunar Xprize timeline slightly, saying that at least one team must provide documentation of a scheduled launch by December 31, 2015 for all teams to move forward in the competition.
Matt Hirst, Head of Brand Partnerships and Experiences, Google, added, "We would like to congratulate Astrobotic, Hakuto, Moon Express, Part-Time Scientists and Team Indus on their Milestone Prize Award wins, as well as the other 13 Google Lunar Xprize competitors, all of which continue to devote tireless dedication to this goal. At Google, we passionately believe in the power of asking big questions and we are proud to support the efforts of those who push boundaries in science and society to create a better world."