Earlier this week at Microsoft's first ever machine learning and data sciences conference in India, a large crowd gathered to learn more about the latest developments in these areas. The company used the event to talk about Cortana Intelligence and the Azure IoT suite, hoping that Indian developers will get on board these new services. At the same time, Microsoft is working with the public sector to deploy these tools in areas such as healthcare, agriculture, and education.
Walking into a roomful of journalists at the sidelines of the event in Bengaluru, Joseph Sirosh, CVP, Data Group, Microsoft Cloud and Enterprise Division, jumps past what the company is already doing, and paints a picture where machine learning and the cloud can power a future that's straight out of science fiction - and yet, the things that he's talking about are already happening.
"There is now an incredible amount of data being generated, and that's just going to increase," he says, "In 2013, there were 500 million sensors on the planet - and by 2020, there are going to be 50 billion. We're going to be generating 50 zettabytes of data by 2020 [1 zettabyte = 10,000 gigabytes] and that's going to enable a lot of different things."
"For example, there are already news bots - they can pick up different inputs, and write simple stories based on those," he says. "The idea is that you can automate the simple tasks, and then allow people to focus on the more creative work."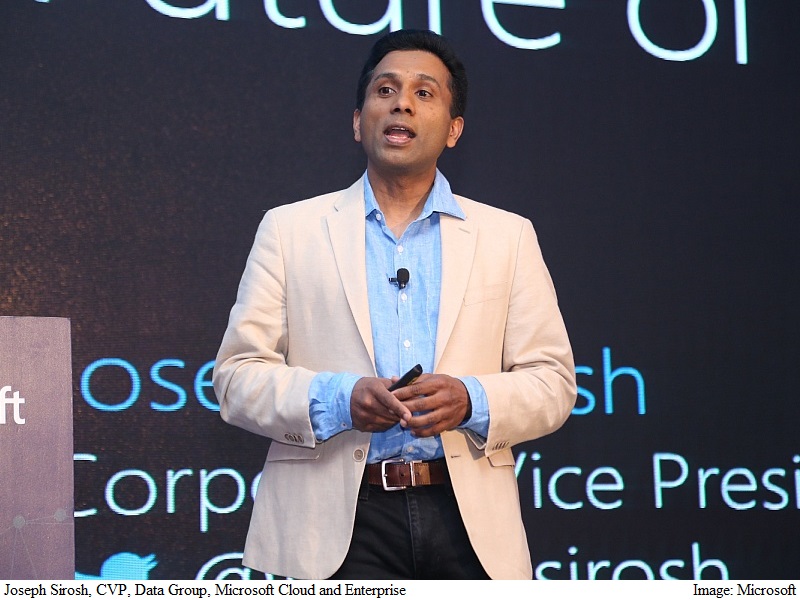 Although Microsoft has been working on cloud and AI services for many years now, as Sirosh also points out, most people think of Google, and perhaps Amazon, when they think of these terms. Part of this is because of the company's legacy business as one of the big enterprise software providers, which is why Anil Bhansali, Managing Director, Microsoft India (R&D) says that the company will be doing a lot of "on-premise" on-boarding.
However, Sirosh says that Microsoft wants to democratise the tools that the company is creating, and wants to make them accessible to developers of all sizes, and not just big businesses. Bhansali explains that many of the tools Microsoft is talking about such as its cognitive APIs on the cloud are offered free for experimentation, and payment plans are needed once developers have a product that's ready to deploy commercially.
"We have a number of tools, such as computer vision, caption bot, how old, speech and language recognition, and emotion match," Sirosh says, "and these are all available on the cloud, so you can just chain them together to create something amazing."
He gives the example of how one Microsoft engineer, who is visually impaired, developed software for augmented reality glasses that lets him "see" the world around him. In a video Sirosh shows, Microsoft engineer Saqib Shaikh is shown looking at objects, and tapping the arm of his augmented reality glasses. The Seeing AI then uses Microsoft Cognitive Services APIs to describe things, so it can give a description such as "a small boy playing with a ball" using the caption service, or using the emotion service, it can even say something like "a woman, who looks to be about 20 is smiling, while a man, who looks to be about 40, looks surprised."
Sirosh also talks about how the technology can be used to track details like injuries and performance for sportspeople, so that coaches can improve their teams' performance. He also gives the example of cricket, and how the Duckworth Lewis system is used to compute scores in case of rain, and how the Cortana Intelligence Suite could lead to far more accurate predictions that take in many more details through the use of machine sensors deployed across the stadiums and on players' clothing.
But perhaps more importantly, while such future technologies are on the way from developers who will adopt the technology, Microsoft is already working to deploy its intelligence software. For example, it has a project with the Andhra Pradesh government which looks at historical and current data from government schools and other sources to predict which students are at risk of dropping out; the company says it has only just started this project, and it's keen to work with other states too.
Microsoft is also working with International Crops Research Institute for the Semi-Arid Tropics (Icrisat) - looking at weather patterns for 45 years along with crop data for 10 years -on a project to inform groundnut farmers the right time to plant their seeds. The project includes a full last-mile solution, where an SMS is sent to farmers in the local language to tell them when it's time to plant the seeds.
With technologies like these, it's hard to say just how the products being developed will end up being used, or when. What's clear is that Microsoft doesn't plan to be left behind in the race for leadership in machine learning or artificial intelligence. Whether that means helping the visually-impaired see, or getting a Facebook bot running in minutes, as one of the demo booths at Microsoft's conference was showing.