On a gated residential street about an hour's drive south of Mexico City's main business district lives Breogan, a $350,000 (roughly Rs. 2.3 crores) computer that Alberto Alonso built to shake up the nation's stock market.
Alonso, 32, created the machine and the software it runs with a squad of eggheads including a trained atmospheric physicist and a robotics specialist. The algorithm the device uses automatically buys and sells shares when it spots an alluring trade, aiming to disrupt a market where business is still often done with a phone rather than a computer.
"Mexico still isn't a place for geeks, but give me a chance," Alonso, whose jeans and untucked shirt gave him a look closer to a grad student than Wall Street trader, said in an interview.
Alonso is seeking to transform a market that trails the rest of the world when it comes to computer-driven stock trading. While the Bolsa Mexicana de Valores has actively courted algorithmic traders, the bourse is at least a decade behind the US in terms of automation, according to Larry Tabb, the founder of research firm Tabb Group.
Alonso, who is operating his computer in test mode with a limited number of stocks, says that a quirk in Mexico's market means he'll be able to mint money with his computer once he has it fully running. About a quarter of local trading volume stems from companies that also trade in other countries - including household names like Apple Inc. and Facebook Inc. - opening up an arbitrage opportunity for computers fast enough to spot discrepancies in stock prices denominated in pesos and dollars. In theory, any gap is a chance to make money on a bet the differential will narrow.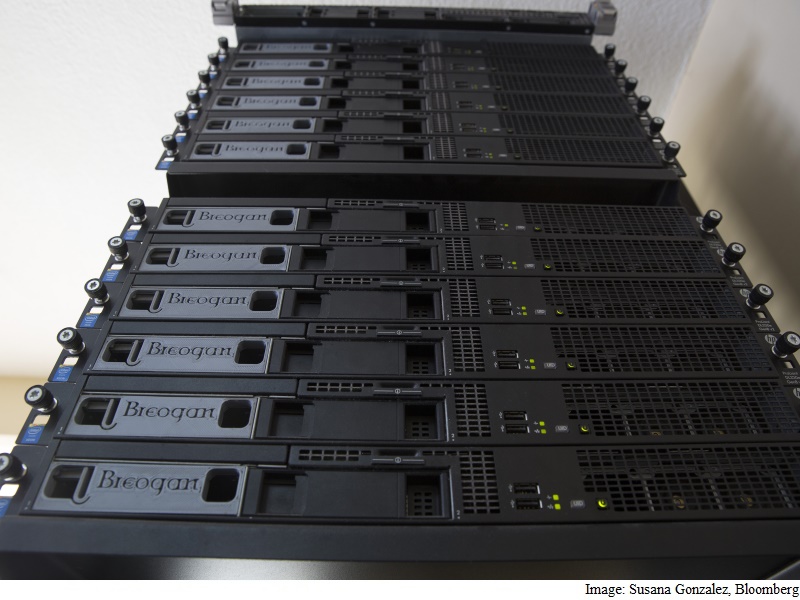 The trades become even more attractive in moments of high currency volatility, according to Alfredo Guillen, the chief operating officer of equities markets at Mexico's stock exchange operator.
"The more volatility there is in the exchange rate, the more trading there is," Guillen said. A gauge of swings in the peso surged to a four-year high in April.
That corner of the market where global securities trade in Mexico is the Sistema Internacional de Cotizaciones, known as the SIC. While US-based investors participate, the platform allows Mexicans to buy global securities without opening an international account. The system has been around since 2003.
Using Breogan (pronounced "bray-oh-GAHN") and algorithms to stimulate trading volume in the SIC beyond the most popular names would have a significant impact on the market, according to Irving Cortes, a friend of Alonso who used to work with him at the derivative-focused financial firm DerFin in Mexico City and still collaborates with him in his current role running CM Derivados.
"It's an enormous opportunity," he said, citing "a large quantity of old-school traders" in Mexico.
Alonso isn't alone. Virtu Financial, a New York-based algorithmic firm that's one of the top traders in the world, has served as a market maker on the SIC for years, according to a person familiar with the matter, who asked not to be identified citing a lack of authorization to comment publicly.
The number of stocks and exchange-traded funds listed on the SIC jumped 47 percent to 1,101 between 2011 and 2015, according to the exchange. Still, Alonso insists SIC trading is concentrated in too few companies. His strategy could broaden the action to more stocks, spurring more volume, he says. Providing liquidity for rarely traded shares by acting as market maker for shares on the SIC could bring in $100 million (roughly Rs. 670 crores) a year in revenue in 2017, he estimates.
"There's an opportunity," said Jorge Alegria, who previously served as head of market operations and derivatives for the Bolsa Mexicana de Valores and now works as a consultant on financial market structure in the US, Latin America and Asia. "All of this development, investigation and above all innovation is great for the Mexican market."
The "innovation" in this case is Breogan. The machine, which Alonso says is like having 500 people watching the Mexican market for arbitrage opportunities at once, automatically locks in buy and sell orders. The system needs less than 70 milliseconds to execute a trade once it identifies the potential for profit.
Since late February, Breogan has brought in about $475,000 (8.6 million pesos) in revenue for Alonso's firm, GACS. He has been ramping up the system slowly, running the algorithm on only about one-sixth of the names available in the SIC. He plans to invest another $50,000 in Breogan to boost processing power.
Much like his hand-picked team, Alonso's metaphors extend beyond those typical of a trader. On his desk next to Breogan - which is named for a mythical Galician king -- Alonso has a card from the trading card game "Magic: The Gathering" featuring Jace, the Mind Sculptor.
"He's a Planeswalker," Alonso said, explaining how Jace exists between two places, just as Breogan has feet in both Mexico and the US "Here we are scientists first, then business people."
© 2016 Bloomberg L.P.