It's been over 45 years since man first landed on the moon, spurred by the spirit of competition between two powers fighting the cold war. Since then, mankind seems to have given up on the quest to explore space on the same war footing.
Announced in 2007, the Google Lunar XPRIZE tried to stir things up in the aerospace industry with its $20 million (roughly Rs. 132 crores) winner's bounty offered to any privately funded team "that can land a robot on the surface of the Moon, travel 500 meters over the lunar surface, and send images and data back to the Earth". After a series of extensions, the competition deadline is now December 31, 2017, which gives 16 of the initial 29 teams teams from around the world, roughly 730 days to do it.
Bengaluru-based Axiom Research Labs is one of the teams taking a crack at this and has made considerable headway - its entry, called Team Indus, is the only Indian entrant in the fray, and it won a $1 million (roughly Rs. 6.6 crores) Milestone Prize in the lander category earlier this year.
Rahul Narayan, Fleet Commander at Team Indus, gave Gadgets 360 an overview of the work going on in its labs, sharing some of the groundwork being laid as the team embarks on the audacious moonshot to boldly go where no privately funded player has ever gone before.
Most startups look at a small problem and try to solve it, but Team Indus has to solve a very complex engineering assignment, as well has manage all the other regular aspects of a startup, such as recruitment, partnerships, and fundraising, in order to be successful. It's never been done before by a private company, and there's no one-size-fits-all solution here. Aerospace is a very complicated industry on its own because of international regulations and restricted technologies.
"It's multi-disciplinary and multi-year, it is not a service - it is not as if somebody has given us a design. All we started with was with a two-point problem statement," says Narayan, explaining some of the challenges the team has had to deal with. "In the life-cycle of a company, usually you begin at one point, and you go further from there. For us, the first assignment is the most complex assignment that we have."
Rating its own chances
"It's a competition, you never know who is going to win, but we're definitely in the top three teams. There aren't too many people who can beat us out there. We were shortlisted as the top 3 in the milestone prize that we won last year," says Narayan. "We have been making very steady progress on very real engineering. We have just put our heads down and focused on the technology."
With a problem statement so huge, a lot of teams have dropped out, and only 16 of the 30 teams are still working at the challenge. In October, Israel's SpaceIL became the first team to have a launch deal signed and accepted by XPRIZE, with their launch reportedly scheduled for late 2017. Moon Express announced earlier in December that it will use Rocket Lab Electron rocket combined with the company's "MX-1E" micro-lander as part of a 2017 mission.
Team Indus is working closely with ISRO, and plans to use its PSLV launcher to send the spacecraft to the moon, and has already established a global supply network with two dozen plus partners from US, Europe, Japan and Singapore to source the equipment. Team Indus has partnered with L&T for the design and fabrication of one of its lander models, and it has also tied up with Tata Communications, Saasken Technologies, and LASP (Laboratory For Atmospheric and Space Physics) from University of Colorado, Boulder.
Team Indus is nearly 70 people strong, and has recruited over 10 people who had retired from ISRO. These new members are helping with multidisciplinary engineering challenges in structures, mechanisms, control system, thermal, electronics, communication, and propulsion.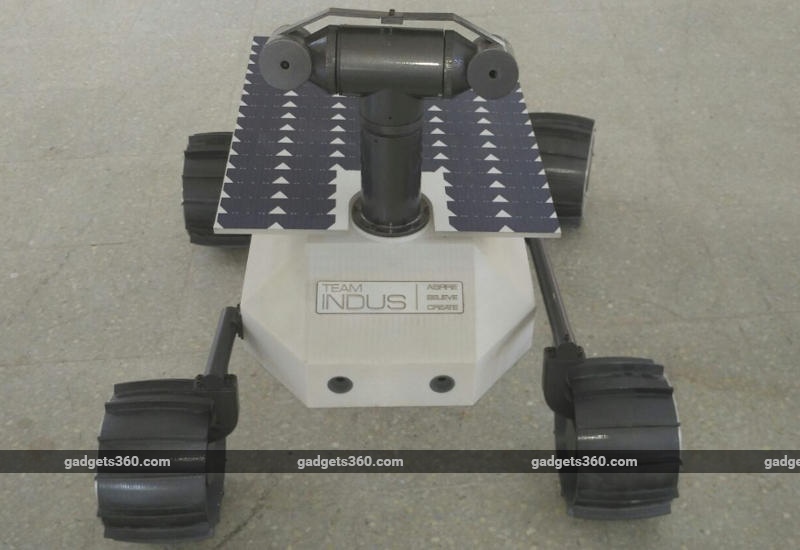 "To build something which can work semi-autonomously, in a remote area, on an unknown terrain is always a challenge. Because we're constrained by mass, volume, and size, it's even more challenging," says Narayan. "At the end of the day, space missions are problematic or challenging because it's always a custom system, depending on what you're doing, how you're doing, what you're carrying, how long do you want to maintain that mission. It is always a custom system. All custom systems have their own lead time to becoming stable."
As a result, space exploration is also very expensive. As this isn't a commodity product, getting suppliers to work is expensive. It's a complex challenge on the fundraising side as well. Narayan says that it will cost more than $30 million (roughly Rs. 198 crores) to accomplish the feat, with engineering costs alone at around $20-25 million (Roughly Rs. 132-165 crores), not including the launch costs. To raise the money, Team Indus has turned to sponsorship, merchandising, even crowdfunding, along with the more traditional equity financing.
Counting down to launch day
Other than tackling logistical and fundraising challenges, Team Indus had its engineering prowess validated when it won the Milestone Prize in the landing category for constructing a prototype of the lander's structure, and performing vibration and drop tests in late 2014. The team has built two versions of the lander, and will be building two more, before the final version comes out. Similarly, for the lunar rover, it has produced three versions, the 6th version will be the one that goes to the moon. The team has also chosen the landing site - Mare Ibrium, one of the largest craters on the moon for its favourable characteristics - minimum shadow regions, low rock abundance, and power generation capabilities.
Once the Team Indus spacecraft detaches from the PSLV launch vehicle, it will use its own engines and propellant to get to the moon, in a series of loops. The first loop around the Earth will take around 24 hours - while the last loop that will take it to the moon will take four and a half days.
"The moon goes around us in 28 days - if we miss it, the moon would have shifted to another place, whereas our orbits would remain at the initial point. Next time we try to get there, there is no moon," explains Aditya Kothandapani, from the Systems engineering team at Team Indus. "Everything is going to be autonomous, it happens so fast, we don't have the time to reach in real-time. Our software needs to be really good. Any spacecraft, once it is launched has a mind of its own. It will not work as you expect - so you will have to update some of the procedures."
Every engine burn will update the team's knowledge of how the spacecraft can perform. If everything goes according to plan, Team Indus will have two trajectory correction manoeuvres available to them, to correct any deviations. Once it gets to the moon, the spacecraft will first orbit at a distance of 6,700 kilometres, and then progressively lower and enter into a circular orbit - which gives the spacecraft the ability to target a moon landing from any spot.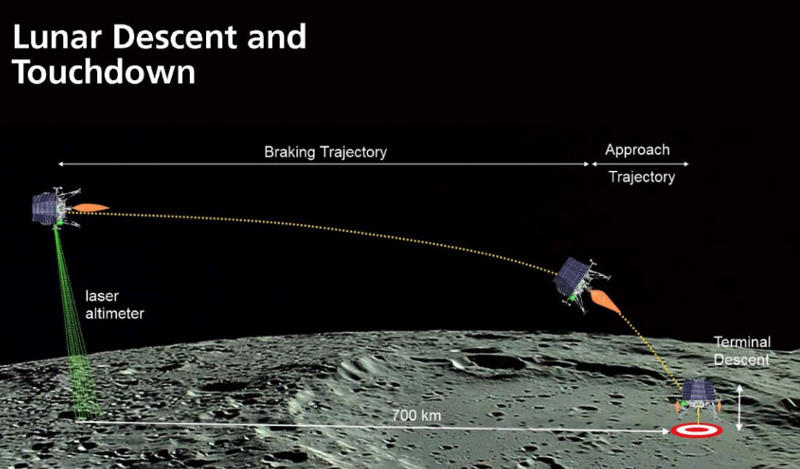 "If anything goes wrong in the way, we can still target where we want to land. The last orbit gets us as close as 12.6 kilometres to the surface of the moon. Historically, it's been seen as a stable altitude, with no mountains to come in your way," Kothandapani adds.
The spacecraft will first land on the moon by manoeuvring its engines, and lower the solar-powered rover through a ramp. The rover itself will move very slowly on the surface of the moon, at a speed of around 1 to three centimetres a second. Team Indus is looking to accomplish the feat by the second half of 2017, and has engineered the rover to be capable of surviving one lunar day, which is about 14 days on Earth. If everything goes well, within that time, it will make an attempt to complete its mission and beam back the footage back to Earth.
What keeps them going
With high costs, and a lot of technical challenges along the way, one has to ask, is it all worth it? Team Indus thinks it is.
"SpaceX and what Elon Musk does, to a great extent, are important leaders who push the boundaries," says Narayan. "What Amazon did and Jeff Bezos was able to do was that he kept pushing. Everybody said it was a loss making entity - but if they had shut down back then, no one else would have tried to achieve what they did. What Google did - they didn't make revenue for many many years when they started off - they persisted. You need these leaders who will push the boundaries."
"It is important to push the boundaries and set up new challenges which you solve, and therefore make things better," he adds.