Samsung Galaxy Y Pro Duos is the latest budget Android smartphone offering from Samsung's basket. It is very similar to the Galaxy Y Duos except that now there's room for a front camera as well. With dual-SIM Android phones buzzing around already, can this one hold its ground? We take a look.

Design & Build
The Galaxy Y Pro Duos in its candy bar form factor feels incredibly light at 112 grams. The phone fits comfortably in your palm. We received a metallic black unit which was well designed with curved edges on the top and bottom. The back panel is plastic-made and comes off easily. It is a touch-cum-QWERTY phone so it makes life easier. The screen dimensions seemed to have been reduced as a result. But this being a QWERTY smartphone, you can't really expect a big display.

The smartphone houses a 3.2MP rear camera and a front facing VGA camera for video calling as well. The power button is placed on the right while the volume rocker finds room on the left. The bottom houses the charging/USB port, while the 3.5mm audio jack is located on the top.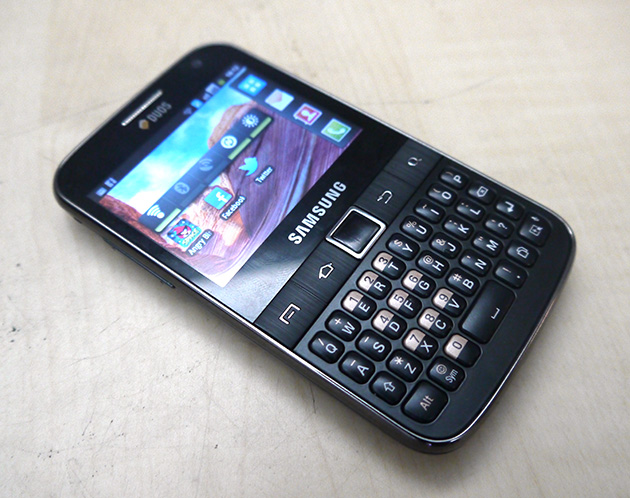 Once the back panel comes off, you see the battery, below which are the dual-SIM slots. The microSD slot is located on the top-right.

The QWERTY keypad is neatly laid out and feels very comfortable to use for typing. The standard Menu, Home, Back and Search buttons are distributed on either side of an Optical trackpad that also make navigation easier.

The Galaxy Y Pro Duos came with a charger, a USB cable, a pair of headphones, 3 pairs of earplugs, a warranty card and a quick start guide in the box.

Display
The Y Pro Duos sports a 2.6-inch capacitive TFT LCD display with a resolution of 320x240 pixels. The colours look decent enough even in broad daylight, although the text seemed a little blurry.

What's interesting is that the screen orientation is available in both portrait and landscape modes. The latter doesn't make sense at all with the screen size being so small and feels really weird.

Camera Quality
At 3.2MP, you can't expect wonders but even so, the camera is decent enough for a budget smartphone. There is no flash, so pictures taken in the dark won't impress you much, while images taken in day-light are just OK.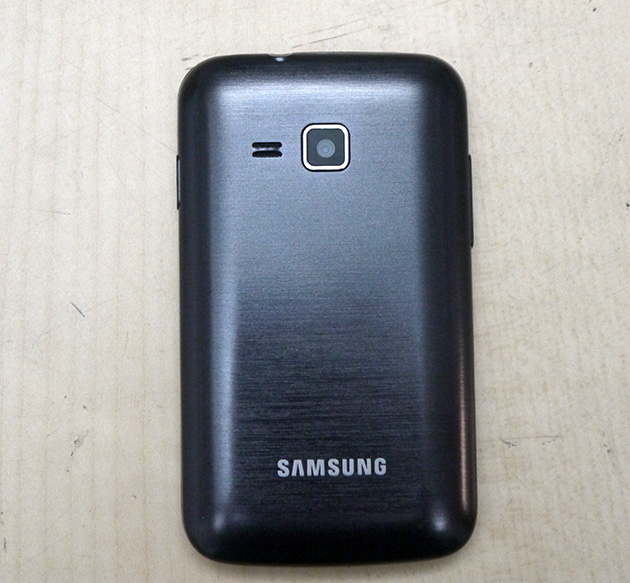 Samsung Galaxy Y Pro Duos camera supports video recording upto a resolution of 320x240 pixels and once you shoot a video, you also have the option to trim them. Basic settings include white balance adjustments, resolution selection, self-timer and scene modes.

OS & Interface
The Galaxy Y Pro Duos comes with Android Gingerbread (v2.3.6) which seems outdated nowadays with Ice cream Sandwich Android phones already available in the market. Samsung's traditional TouchWiz interface allows for a satisfactory operability experience. There are 3 customisable homescreens and the menu isn't cluttered with too many pre-loaded apps.

The 832 MHz single core processor performs well enough to allow multi-tasking without too much lag. The device also comes with 384MB of RAM that feels very less and the memory can be expanded upto 32GB via microSD card slot.

Pre-loaded software
As we mentioned earlier, there aren't many pre-installed apps apart from the standard Google ones like Gtalk, YouTube, Maps and Gmail. Even must haves like Facebook and Twitter were missing. We however downloaded them from the Play Store and they worked just fine. Polaris Office is useful for accessing and reading your documents.

You can also access Samsung's stock app store, Samsung Apps to download free or paid apps after you've signed-up.

Performance
The phone is an average performer and there's no wow moment involved. Dual SIM functionality is limited in the sense that while you can keep personal and official numbers separate, you can use only one SIM at a time for calls. You can also choose your SIM preference from the notifications menu.

The standard Li-ion 1350mAh battery lasts for a full day without you having to reach for the charger . Both the 3G and Wi-Fi experience were good and the battery didn't give up on us while surfing the web, watching videos, making calls or running multiple applications.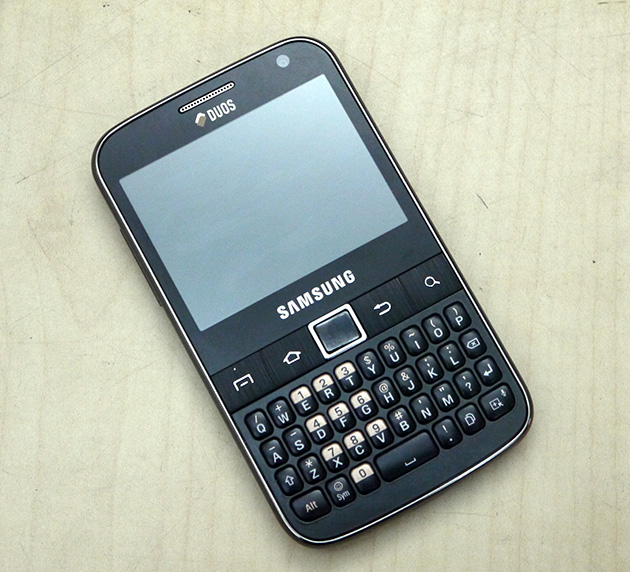 The audio quality of the phone again, isn't very great on both, the speaker phone and the headphones that came along with it. A disappointing fact with regard to the FM Radio is that you can set only four radio stations at a time and not more.

When playing YouTube videos, they seemed a bit pixelated, though they played fine without lags.

We fired up a game of Angry Birds Space and the multi-touch experience wasn't smooth enough. You can't really see the target and have to guess your aim in most scenarios.

The stock browser supports Adobe flash and the surfing experience was decent without too many hiccups while using both 3G and Wi-Fi.

Verdict
With many budget dual-SIM phones flooding the market, the Galaxy Y Pro Duos doesn't put something extraordinary on the table. It is a decent performer that just about gets the work done. All features are pretty basic that you'd get with any budget Android phone. The introduction of an optical trackpad, though makes navigation easier can be confusing since it takes a while to getting used to with the touch screen in place. We're sure you've heard the phrase, 'out of sight, out of mind'. This one is sure to be in that list.

For more pictures of the Samsung Galaxy Y Pro Duos, visit our photo gallery.