Samsung has been attracting quite a bit of attention in every mobile category: budget phones, smartphones and even feature phones. A latest addition to its Android budget phone category is the Samsung Galaxy Pocket. The device is pocket friendly in the literal sense, sporting compact looks and feeling light in the hands. But is it pocket friendly in terms of the value-for-money factor? We find out in our review.

Hardware
The Galaxy Pocket is light as a feather at a mere 97grams and the compact design allows for a snuggly fit in your palm. Despite having a plastic body, the device feels good to hold and does not look tacky or cheap. It sports a simple curved-edge design and has a 2.8-inch full touch screen, with capacitive Menu and Back buttons on either side of a physical Home button.

There's a 2MP camera at the back, with the device speakers. The Micro-USB port that allows both charging and transferring of data, is located on the top, adjacent to the standard 3.5mm headphones jack. The left houses the volume rocker, while the power button rests on the right side.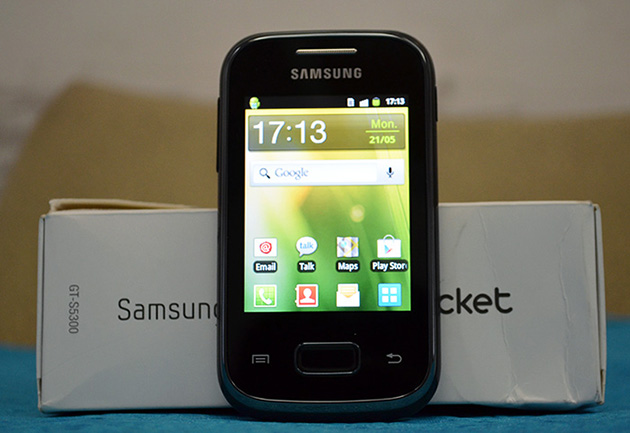 Taking off the back panel requires a little effort, which then reveals a battery that needs to be removed to access the SIM slot. The device came concealed in a box with a power adapter, a data cable, a pair of headphones and a quick-start guide.

Display
The Galaxy Pocket has a 2.8-inch TFT capacitive display supporting a pixel resolution of 320x240. It's needless to say that a 2MP camera will not produce great quality images. Pictures do seem dull but still look better in daylight than in low light conditions. The device does not have a front facing camera. Full brightness levels can get strenuous on the eyes.

Software/ Interface
The pocket friendly smartphone runs on Android 2.3 and is powered by an 832MHz processor underneath. Multi-tasking on the device felt really smooth and it is quick to respond. There are three customizable home screens and the device has Samsung's TouchWiz UI on top.

There's more than enough room to store apps, photos, music and videos with the phone's 3GB internal storage, expandable up to 32GB via microSD card slot


Apart from the Google Play Store, Samsung's own app store is also present to download and use apps. There's Polaris Viewer to manage media and documents as you go, and a Social Hub app that manages your social networking apps and makes communication through messages and emails easy.

Performance/ Battery life
The Galaxy Pocket comes with a 1200mAh battery that delivers a good performance. A moderate user can use the device for an entire day on a single charge.

Typing on the device can become quite a task in portrait mode unless you are blessed with tiny fingers, thanks to a full QWERTY keyboard crammed into a 2.8-inch screen. Landscape mode feels more comfortable though. We tested it amongst friends with different sizes of hands and those with slightly large or thick fingers just couldn't get the alphabets right.

The speaker audio quality isn't that great, but then that's the case with most budget Android phones. The bundled headphones, however, do a good job of enhancing the sound quality. There's a 5.1 sound option that works only in earphone mode and offers crystal clear audio. The FM experience was good, but you can choose to set only 4 stations at a time. However, you can listen to all available frequencies.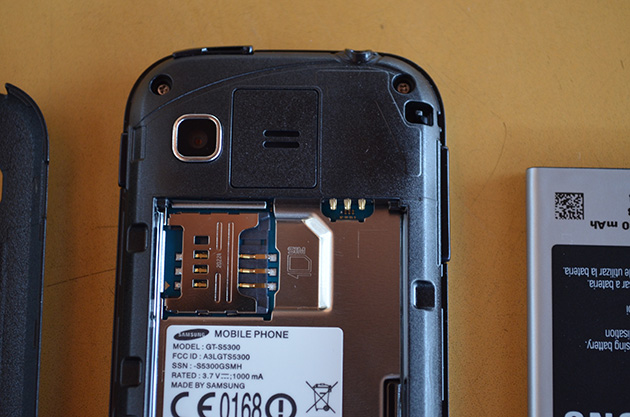 The device works well on Wi-Fi and the web browsing experience was decent. It does not support Adobe Flash Player 11 but comes with built-in Flash Lite. YouTube videos played smoothly with slight pixilation. The latest iteration of Angry Birds worked without any lags or crashes. Slicing and dicing in Fruit Ninja was pretty smooth as well. More recently launched apps for Android like 8bit Ninja worked alright with respect to gameplay, but it was a pain to read in-game text on the screen which appeared quite distorted.

Apps optimized for the device, available via the Samsung Apps store, also worked decent enough. We downloaded some gaming apps like Run Kelvin, Ballance and Animal Puzzle, all of which turned out to be really simple in terms of both interface and gameplay offering a lag-free experience. DJ Master Mix, an audio app offering a collection of remixed songs, worked great too.

The store also features exclusive apps from EA and Gameloft. While it was exciting to see a trial version of Assassins Creed, even before we could get acquainted with the game, it quit the trial version and prompted us to buy it, which was very disappointing.

Verdict
So is the Galaxy Pocket really worth pocketing? If this would be your first Android, then yes you could go for it. Feature wise, the phone is pretty basic, which is in line with one's expectations from a budget phone. The small size and lightweight could prove both a boon and a curse depending on the size of your hands. The device is very responsive with no lags whatsoever. For a price of Rs. 8,150, the Galaxy Pocket would be a decent investment.



Don't forget to visit our photo gallery for more pictures of the Samsung Galaxy Pocket.

Pros
Compact and lightweight
Great storage capacity

Cons
Poor camera
On-screen keyboard feels cramped in portrait mode

Price: Rs. 8,150

Ratings
Design: 3
Display: 3
Camera: 2.5
Performance: 3
Software: 3
Battery life: 3
Ecosystem: 4
Value for Money: 3
Overall: 3