1
Steve Jobs, Apple's co-founder, dies at 56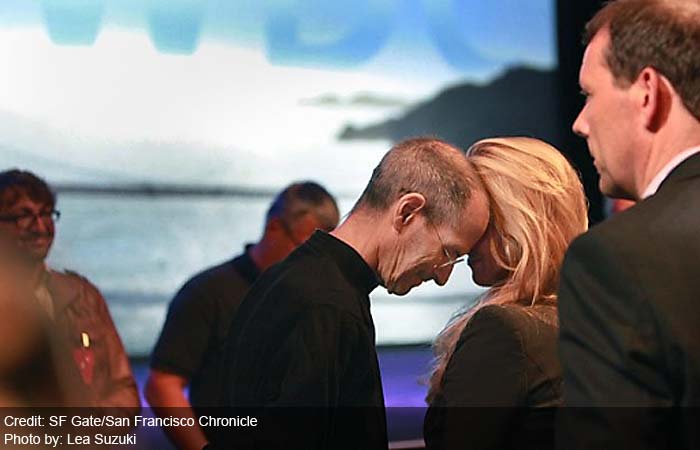 Steve Jobs rests his head against his wife, Laurene Powell Jobs, after delivering the keynote address to the Apple Worldwide Developers Conference at Moscone West on Monday.
2
Steve Jobs, Apple's co-founder, dies at 56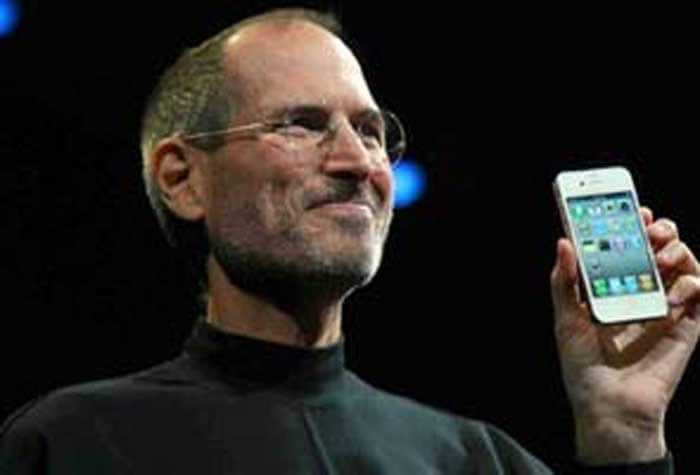 Steve Jobs lost his long and public war with pancreatic cancer yesterday, October 5 – just a day after the latest upgrade of the iPhone was released. He was 56. His death was announced by Apple, from where he stepped down as CEO in August, less than three months ago, citing his failing health. The visionary Apple co-founder rose to iconic status as a technology leader and leaves behind a legacy of innovation and invention.
3
Steve Jobs, Apple's co-founder, dies at 56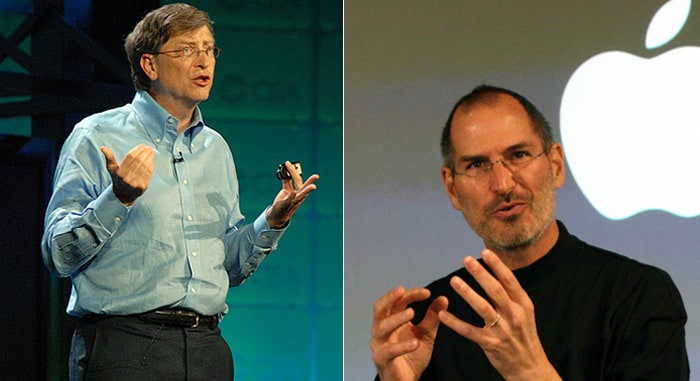 If the Nineties had Bill Gates, the Noughties have Steve Jobs. As Apple goes from milestone to milestone – overtaking Microsoft, reinventing the wheel with the iPad, taking smartphones to the next level with the iPhone – Jobs is technology's knight errant of the moment.
4
Steve Jobs, Apple's co-founder, dies at 56
Steve Jobs was born on February 24, 1955, in San Francisco. His biological mother, Joanne Simpson, was an undergraduate student, and his biological father, Abdulfattah John Jandali, was a political science and mathematics professor, and a native Syrian.

Born out of wedlock in the puritan America of the 1950s, baby Steve was put up for adoption. Joanne had one condition – college educated herself, she insisted the future parents of her boy be just as well educated. Paul and Clara Jobs, the adoptive parents, did not meet this requirement – but Joanne agreed to let them adopt her son on the firm condition that he, at least, would go to college.
5
Steve Jobs, Apple's co-founder, dies at 56
When he was 11, Steve and the Jobs family moved from San Fransisco to Los Altos, so that Steve could go to Cupertino Junior High and Homestead High. This was to prove a defining moment in the building of his future.

At Homestead, Steve befriended fellow computer whizkid, Stephen Wozniak. The high school connect turned into a partnership that was to change the world of tech forever - Apple
6
Steve Jobs, Apple's co-founder, dies at 56
In 1973, it was time for Steve to go to college. He picked Reed College, a private – and pricey - liberal arts college in Oregon. Reed was too expensive for the Jobs' and Steve stayed only a single semester, dropping out before Christmas. However, that allowed him to "drop in" on classes he was not supposed to attend. Here, he learnt calligraphy – a skill that would later lead to the beautiful typography on the Macintosh.
7
Steve Jobs, Apple's co-founder, dies at 56
A year later, and in need of money for a planned spiritual retreat to India, Steve landed a job at Atari, arguably the first video game company. Young Steve Jobs looked up to Atari's founder Nolan Bushnell. He was clearly an inspiration for him to start Apple.
8
Steve Jobs, Apple's co-founder, dies at 56
Apple Inc is Born: In 1976, Steve Wozniak was working at Hewlett Packard and had developed his own computer circuit that so impressed Steve Jobs, he managed to convince Wozniak to join him in starting their own company.

To raise the necessary $1,000 to start building the first boards, Steve sold his Volkswagen van, and Wozniak his HP 65 calculator. Steve, remembering his days from the commune in Oregon, said that they would call their company Apple if they didn't find a better name. They didn't.
9
Steve Jobs, Apple's co-founder, dies at 56
The Apple 1 was their first product, designed by Wozniak. It went on sale in July 1976, when Steve Jobs negotiated a deal selling 200 Personal Computers to a local store.
10
Steve Jobs, Apple's co-founder, dies at 56
The Apple II was launched on June 5, 1977 and was a major technological advancement of over the Apple 1. The Apple II was instrumental in making the PC industry a mainstream business. Not only was it Apple's most successful product through the dark period of the Eighties, it also served as a template for future PC designs.

Ever since the original Apple II, Apple has paid high attention to its quality of packaging, partly because of Steve Jobs personal preferences and opinions on packaging and final product appearance.
11
Steve Jobs, Apple's co-founder, dies at 56
The success of Apple II was followed by the failure of Apple III. Steve Jobs saw LISA, an ambitious project to design a graphical user interface based personal computer, as a way of reviving Apple.

But there was growing animosity amongst the Apple employees against Steve Jobs, something the company's top brass was all too aware of. Despite Project LISA being Steve Jobs' brainchild, it was handed over to John Couch. In the end, LISA faced a lot of criticism due to the sluggish nature of the software. In an aside, rumor has it, the project was named after Jobs' first child, Lisa Nicole Brennan-Jobs. Officially, though, the name was an acronym for Local Integrated Software Architecture.
12
Steve Jobs, Apple's co-founder, dies at 56
The Macintosh Is Born – After being left out of Project LISA, Jobs took control of the Macintosh Project and quickly left his mark on the Macintosh team. His motivations were to have his own successful computer, unlike the Apple II, which was Wozniak's brainchild. Steve hung a pirate flag: "better be a pirate than join the Navy," he said — clearly, the Navy was the rest of Apple.
13
Steve Jobs, Apple's co-founder, dies at 56
Axed from Apple - After the failure of the Macintosh, resentment built up against Steve Jobs at Apple. The honeymoon period with CEO John Sculley was over and the two men were constantly at loggerheads in their inner circles.
14
Steve Jobs, Apple's co-founder, dies at 56
In May 1985, Sculley relieved Jobs from the Macintosh division. Looking back at that infamous day, Jobs said at the Stanford commencement in 2005, "I feel like somebody just punched me in the stomach and knocked all my wind out. I'm only 30 years old and I want to have a chance to continue creating things. I know I've got at least one more great computer in me. And Apple is not going to give me a chance to do that."
15
Steve Jobs, Apple's co-founder, dies at 56
Steve Jobs' post-Apple venture, NeXT, did not begin smoothly. The moment it was created, the six co-founders Bud Tribble, George Crow, Rich Page, Susan Barnes, Susan Kare, and Dan'l Lewin, found themselves sued by their former employer.

Apple accused them of stealing their technology. Jobs' remark on this suit was, "It is hard to think that a $2 billion company with 4,300-plus people couldn't compete with six people in blue jeans." The suit was later dismissed.
16
Steve Jobs, Apple's co-founder, dies at 56
Meanwhile, Steve had something on the side called Pixar. He bought it from Star Wars director George Lucas for a steal and turned it into a leading animated movie production house. They also released a breakthrough graphical computer language called RenderMan.
17
Steve Jobs, Apple's co-founder, dies at 56
In 1990, Jobs met Laurene Powell, a young Stanford MBA student. Laurene, a leggy blonde, was also very smart and independent — in addition to being a militant vegan.

According to Steve, it was love at first sight. He cancelled a business meeting to have lunch with her, and the following year, on March 18, 1991, they got married in Yosemite. Laurene gave birth to Steve's second child, Reed Paul later that year, who was named after Steve's college and his father. His first child, Lisa, was born in 1978 from his relationship with bay-area painter Chrisann Brennan.
18
Steve Jobs, Apple's co-founder, dies at 56
Toy Story Makes Hollywood History - Disney agreed to sign a contract with Pixar for a full feature film, made entirely on computers. This had been Pixar's dream for years. It was a huge deal for their struggling studio. Steve Jobs' investment finally seemed to pay off.

Steve realised the Disney deal would materialize into something much bigger than he had ever imagined, and that Pixar was the way out of his low-lying relation with NeXT.

When Toy Story finally came out on November 22, 1995, it busted the box office beyond Pixar and Disney's wildest hopes. It made $28 million on the Thanksgiving 3-day weekend alone, and eventually reached $160 million in US box-office receipts — a great number for a $27 million production.
19
Steve Jobs, Apple's co-founder, dies at 56
Return to Apple - In 1994, Apple lost its court battle, which tried to stop Microsoft from using GUI elements similar to Apple's LISA and Macintosh operating systems. A new world order, and operating system, was waiting in the wings. With the launch of Windows 95, Apple had lost its monopoly.

In December 1996, Steve showed up at the company he co-founded for the first time in 11 years and not only convinced the board to use his technology from NeXT computers, but also to buy his company. Apple agreed to pay more than $400 million for NeXT, double what Jobs was actually asking for it.
20
Steve Jobs, Apple's co-founder, dies at 56
Interim CEO of Apple - In July 1997, the board of directors, led by Steve's ally Ed Woolard Jr., ousted Gil Amelio, then CEO of Apple, after he'd been 500 days on the job. Steve Jobs was asked to retake the reins of the company he'd started. He declined, accepting only a board membership and an interim CEO position, to help the company get back on track.
21
Steve Jobs, Apple's co-founder, dies at 56
The iMac - Steve unveiled the iMac on May 6 1998, at the Flint Center Auditorium, Cupertino - in the same room where he had unveiled Macintosh some fourteen years earlier. It was the first mainstream computer to offer USB connectivity, a technology developed by Intel that was almost non-existent in the PC space. Apple dropped all of its older I/O for USB, and today, the iMac is recognized as the one machine that helped popularize this now-ubiquitous standard. The iMac was also the first personal computer not to include a floppy disk drive. He only put a CD-ROM drive in iMac. But perhaps the most striking feature of iMac was its radically different design.
22
Steve Jobs, Apple's co-founder, dies at 56
Steve Jobs' keynote address at Macworld on January 5, 2000 was a milestone for two reasons. First, after a little over three years of managing Apple, he declared he had accepted his de facto situation and become the company's full-time CEO. Second, he introduced the Mac OS X for the first time to the world.
23
Steve Jobs, Apple's co-founder, dies at 56
Mac OS X was the result of three years of hard work by all of Apple's software engineers to port NeXT STEP to the Mac platform. The new system felt like an evolved version of the Mac OS, but people familiar with NeXT STEP felt at home too.
24
Steve Jobs, Apple's co-founder, dies at 56
The iPod was an integral part of Apple's vision of the digital lifestyle; the digital music player market did not yet offer compelling products to work with your Mac. In early 2001, iTunes was introduced and the company started focusing on the digital music revolution. Just like iTunes, Steve Jobs wanted to get a product out to market quickly, to catch up with the rest of the industry. The original iPod distinguished itself from its competition for several reasons. Apart from its gorgeous look, its click wheel and user interface made browsing through one's music collection easy and fast; it had a hard drive that could store up to 5GB, or "a thousand songs in your pocket". Jobs said, "We're in uncharted territory. We've never sold this many of anything before".
25
Steve Jobs, Apple's co-founder, dies at 56
Steve Jobs, who still owned close to 50% of Pixar's stock, became Disney's single largest individual shareholder, with a share of 7%. Ed Catmull, Pixar's former president, was named president of the combined Disney-Pixar studios, while John Lasseter was chief creative officer. Steve was now an influential board member of the Walt Disney Company, a position he still holds today.
26
Steve Jobs, Apple's co-founder, dies at 56
The company's decade-long fight to gain market share in the PC industry, especially in the consumer market, started paying off around 2006. The transition to Intel was rapid yet smooth. The entire product line was ported in less than a year: it started with the iMac and the pro notebook, re-christened the MacBook Pro, in January 2006. Then came the Mac mini in February, followed by the MacBook (replacing the venerable iBook) in May, and the Mac Pro (former Power Mac) and XServe in August.
27
Steve Jobs, Apple's co-founder, dies at 56
The iPhone project started in 2003 and the phone was finally announced in January 2007. The basic idea was to build a digital convergence product, the ultimate digital device that would combine a phone, PDA, and iPod.

The iPhone prototype was eventually ready for Macworld, on January 9, 2007. When Steve took the stage at Moscone Center in San Francisco; he told his audience they would make some history together. He knew the iPhone would be one of the most important products in Apple's history, one that would set its destiny for decades to come.
28
Steve Jobs, Apple's co-founder, dies at 56
In October 2003, while performing a routine abdominal scan, doctors discovered a tumor growing in his pancreas. Usually a pancreatic cancer is quick to kill you — but not in Steve's case. He was suffering from an islet cell neuroendocrine tumor, one that can be removed by surgery and usually leave the patient with some ten years or more. He reluctantly agreed to have the surgery in August 2004, at the Stanford Medical Center.
29
Steve Jobs, Apple's co-founder, dies at 56
On January 27, 2010, overachiever Steve Jobs launched another game-changing product – the iPad. At the launch, many technology journalists criticized the iPad for it's lack of features, but all of them were proven wrong as Apple sold 3 million devices in 80 days, and more than 14 million devices in 2010. 

The iPad went on to become the fastest selling product in consumer electronics history. The phenomenon still continues to dominate as the iPad, in its second generation still does not have a viable competitor.
30
Steve Jobs, Apple's co-founder, dies at 56
On 17th January 2011 Steve Jobs went on a temporary leave of absence but stayed on as CEO, while Tim Cook became the interim CEO.

On 24th August 2011 Jobs resigned as CEO of Apple, but became the chairman of the Apple board, while Tim Cook took on the role of the CEO.