1
Breaking News: Twitter-Happy Stars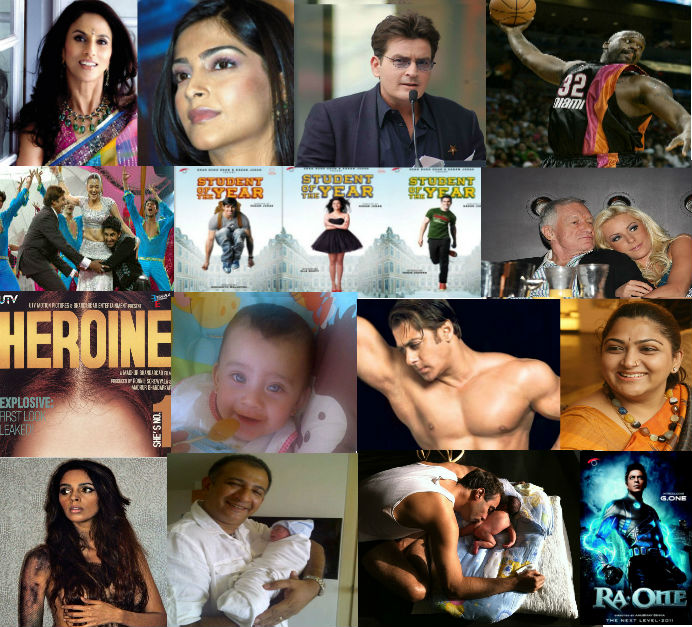 This just in: Twitter is where stars go when they have news for the world. New films, pregnancies, break ups - Twitter is where you heard it first, from the stars themselves.
2
Breaking News: Twitter-Happy Stars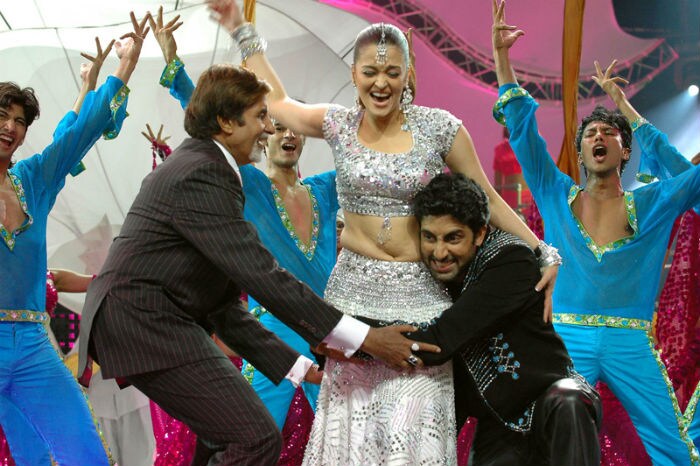 There's a little bundle of joy on the way for Ash and Abhi. Here's how we know: Amitabh Bachchan outed them on Twitter saying  "NEWS NEWS NEWS !! I AM GOING TO BECOME A GRANDFATHER .. AISHWARYA EXPECTING.. SO HAPPY AND THRILLED!!!"
3
Breaking News: Twitter-Happy Stars
SRK, once a hyperactive Tweeter, was suddenly AWOL from the microblogging site. He returned after a prolonged absence to promote new movie Ra.One, saying, "excited with thought of ra.one teaser 10 seconds tomorrow & 30 seconds from 24th on espn star. had promised will show here first. wil try"
4
Breaking News: Twitter-Happy Stars
Nobody expected it to last but nearly everyone was surprised when the Hugh Hefner-Crystal Harris wedding was over even before it began. The grand old man of Playboy confirmed that he had been jilted by his Playmate fiancée with this tweet: "The Wedding is off. Crystal has had a change of heart."
5
Breaking News: Twitter-Happy Stars
Twitter was among the battlegrounds for Charlie Sheen's war of words with Chuck Lorre, the producer of hit TV show Two And A Half Men. He said, "Just got invited to do the Nancy Grace show... I'd rather go on a long road trip with Chuck Lorre in a '75 Pacer...."
6
Breaking News: Twitter-Happy Stars
Mandira Bedi had an extra special Father's Day gift for husband Raj Kaushal. She gave birth to son Vir on June 19. First time daddy Raj Kaushal tweeted "Thank you @mandybedi for the best gift in my life. I think I am in? Again? Ladies and gentlemen"
7
Breaking News: Twitter-Happy Stars
Ameesha Patel posted a picture of Sanjay Dutt's baby daughter Iqra. Rumour has it he wasn't pleased. Ameesha tweeted "One of the cutest piks of Iqra. Sanjus n manayattas gorgeous daughter."
8
Breaking News: Twitter-Happy Stars
Rahul Bose announced the arrival of Konkana Sen Sharma's son, Haroon, tweeting, "Massive congratulations to @konkonas and Ranvir! A boy it is. With those genes, the dynasty is secure. (sic)". Later, daddy Ranvir also posted first pictures of Ranvir Jr
9
Breaking News: Twitter-Happy Stars
Salman Khan retorted in typically Salman fashion to all those carping about his so-called weight gain. He posted a series of bare-chested photos, tweeting, "Me fat ? Kamaal karte ho pandey ji's ."
10
Breaking News: Twitter-Happy Stars
Shobhaa De gave I Hate Luv Storys a nasty lambasting online, with some especially harsh words for the heroine, saying, "As for Sonam, the lassie lacks oomph". Sonam replied with interest: "Guys please don't take Shobha De seriously. She's a fossil who's getting no action and going through menopause."
11
Breaking News: Twitter-Happy Stars
Karan Johar uses Twitter extensively to release the first looks of his movies. The last of his online promos was for Student of the Year. He tweeted, "Hey Guys as always sharing the first look of my next film 'Student Of The Year!' On Twitter Feedback awaited!! http://twitpic.com/3n5fli."
12
Breaking News: Twitter-Happy Stars
Queen of Skin Mallika Sherawat was quick to put Twitter to good use with an almost topless picture to promote box office bomb Hisss. She asked, "is this too much? http://fb.me/DfyZTdtC"
13
Breaking News: Twitter-Happy Stars
Madhur Bhandarkar joined the league of Bollywood gentlemen on Twitter by announcing his next film. He tweeted from Cannes, "HEROINE film announced at Cannes today. Here is a pic."
14
Breaking News: Twitter-Happy Stars
Tamil actor and politician Khushboo, famous for speaking her mind, didn't leave Twitter out. She regularly tweets on life, family and relationships offering gems such as, "Unless you love deeply,madly n truly..you remain an unsung instrument unknown to the melodies within you..."
15
Breaking News: Twitter-Happy Stars
Basketball sensation and Hollywood actor, Shaquille O'Neal announced his retirement via video on Twitter. He said, "We did it. 19 years baby. That's why I am telling you first. I am going to retire."