1
Anna most discussed Indian topic on Facebook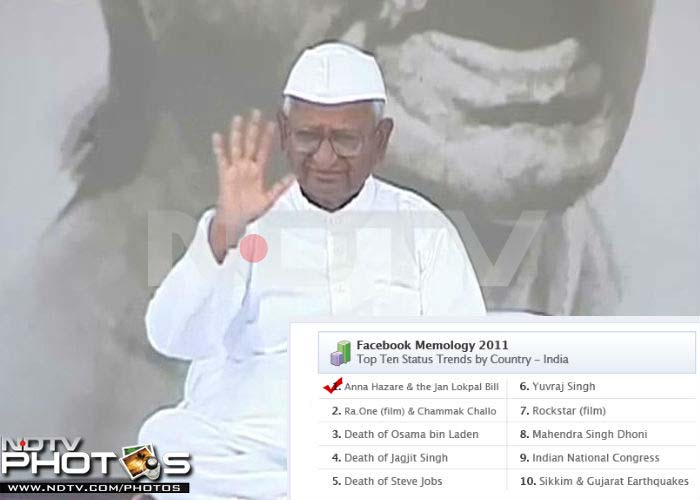 Anna Hazare and his crusade for the Jan Lokpal Bill is most talked about on Facebook in India. Anna's 12 day fast in August 2011 mobilized Indians everywhere and fast acquired a global identity, pressurizing the government to ultimately agree to adopting the salient points of his version of the anti-corruption Lokpal Bill. A myriad groups mushroomed on Facebook in support of Anna and his campaign.
2
Anna most discussed Indian topic on Facebook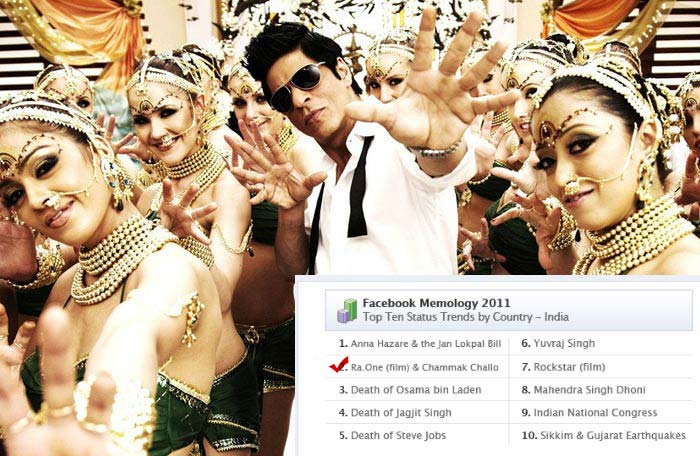 Shah Rukh Khan's superhero magnum opus, RA.One, had become a powerful Internet presence even before opening to full houses on Diwali. The film's own marketing campaign used online sites such as YouTube, and a leaked version of superhit song Chhammak Challo instantly went viral after release. The film disappointed critics, but has gained cyber fame of sorts as the second biggest Indian trend on Facebook.
3
Anna most discussed Indian topic on Facebook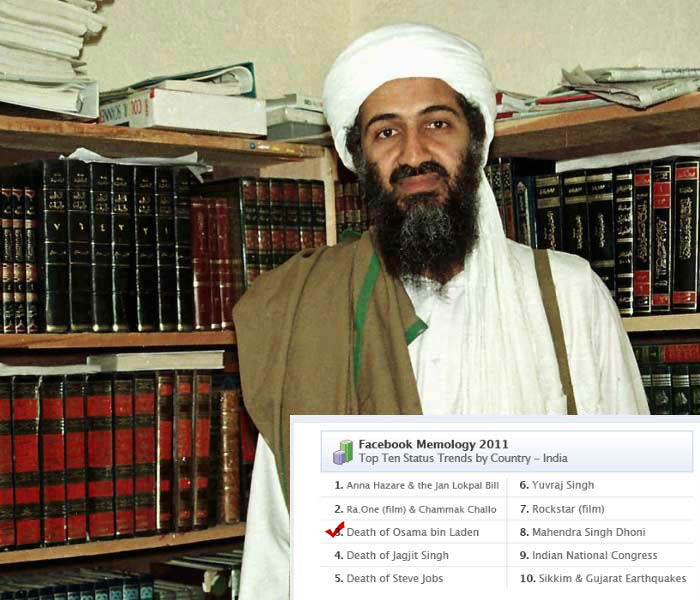 On Sunday, May 1, a team of US Navy SEAL swooped down on a walled house in Abbottabad, Pakistan in a secret, swift, night time raid. Their quarry was Osama Bin Laden, Al Qaeda chief, architect of the 9/11 attack and America's public enemy #1. Operation Geronimo lasted 40 minutes and left Osama dead after a ten year manhunt. This was among the year's biggest moments in India, as it was the world over, and the Osama raid was the third most talked about trend on Facebook (it topped the worldwide trends).
4
Anna most discussed Indian topic on Facebook
Trend number four was the death of ghazal singer Jagjit Singh. Famous for his mellow voice, Jagjit Singh left behind him a large body of work including hit movie songs such as Tum itna jo from Arth. He died on October 10 at Mumbai's Lilavati Hospital after a brain haemorrhage. His funeral was attended by family, friends (including most of the film fraternity) and fans alike.
5
Anna most discussed Indian topic on Facebook
On October 5, Apple co-founder Steve Jobs finally lost his long and public battle with pancreatic cancer, a day after the latest iPhone was released. He left behind him an array of first-of-their-kind products including the iMac, iPod, iPhone and iPad, and a legacy of innovation. As India joined the global lament for the fallen grand wizard of technology, the death of Jobs also became fifth most talked about on Facebook.
6
Anna most discussed Indian topic on Facebook
Most discussed topic #6, Yuvraj Singh had an eventful 2011. Dropped from the team only last year, Yuvraj battled poor form to make a spectacular comeback in the World Cup, making an invaluable contribution to India's win and bagging the Man Of The Tournament distinction to boot. He then missed much of the rest of the year's play after a series of injuries, including a cancer scare, left him unfit. He also kept himself busy off the pitch, as is his wont, with rumoured new squeeze Shazahn Padamsee.
7
Anna most discussed Indian topic on Facebook
Rockstar, the much looked forward to movie from director Imtiaz Ali, was hotly discussed both before and after it released on 11.11.11. It's many talking points: Rahman's return to form with the film's soulful soundtrack; debutant Nargis, who made news for her beauty, her inability to speak Hindi and the secrecy she was shrouded with ahead of the film; and most of all, Ranbir Kapoor's career best performance as the eponymous rockstar, with a memorable scene in which he shows his middle finger. Rockstar was the seventh most discussed topic.
8
Anna most discussed Indian topic on Facebook
M S Dhoni comes in at eighth place. The Indian skipper led his team to India's second World Cup victory in a heart stopping semi-final against Pakistan and a final against Sri Lanka. Dubbed Captain Cool for his ability to stay calm under pressure, Dhoni has been rated among India's finest captains ever.  Kapil Dev, who captained India's first World Cup win in 1983, said Dhoni's team was the best ever. High praise indeed.
9
Anna most discussed Indian topic on Facebook
The Indian National Congress was this year's ninth most discussed topic and little wonder, as 2011 turned out to be  a series of crises for Dr Manmohan Sing's government. Among the year's highlights – high profile arrests in the 2G spectrum scam including former Telecom minister A Raja and DMK leader Kanimozhi; Team Anna's campaign to have the Jan Lokpal Bill passed in Parliament, a ferocious late night government crackdown on Baba Ramdev's supporters in the Ramlila Grounds; an oscillating petrol price; and a falling rupee. Even as the year draws to a close, the government finds itself in a lockdown over the issue of allowing greater Foreign Direct Investment and accusations of censorship for asking Google and Facebook to screen user content.
10
Anna most discussed Indian topic on Facebook
The earthquakes in Sikkim and Gujarat round up the list of ten. On October 20, an earthquake measuring 5.3 on the Richter scale hit Gujarat with it's epicenter in Bhuj, which was also the centre of the earthquake of January 26, 2001 – one of India's worst disasters. This time, there were no casualties and very little damage. The strongest tremors were felt in district of Junagadh, and there was a complete power outage in the town of Talala. Sikkim was not so lucky. On September 18, an earthquake measuring 6.9 left at least 54 dead, over 100 injured and caused damage worth Rs 1 lakh crore.