1
10 Apps for every Indian
Saavn- If you love Indian music, this is a must-have app for you. It boasts of a huge collection of Indian music that can be streamed straight onto your mobile device using Wi-Fi or 3G. Just like any music streaming service, you can create playlists that you can listen whenever you please. If you are in the mood for some random music, just hit the 'surprise me' button for a random playlist.

Price: Free

Available for: Android
2
10 Apps for every Indian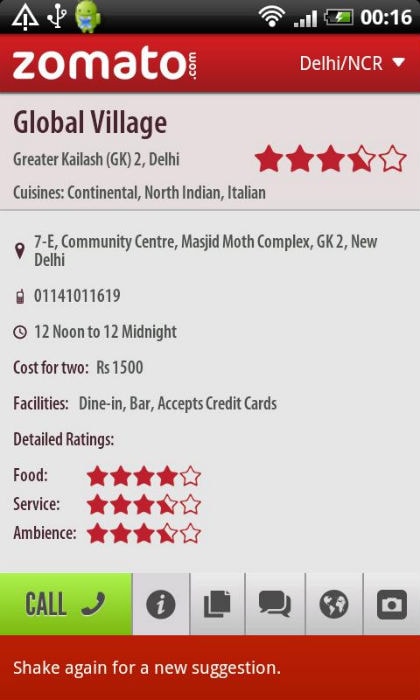 Zomato – Looking for a restaurant nearby? Fret no longer. Just get the Zomato app on your phone, give it a shake and it will give you a popular restaurant nearby. That's not all – you can check the menu of the restaurant, customer reviews and find it on the map – straight from the app. Once you like a restaurant, you can call them from the app to reserve a table or get the food delivered. The only gripe is that it is not available for the Apple iOS platform.

Price: Free

Available for: Android
3
10 Apps for every Indian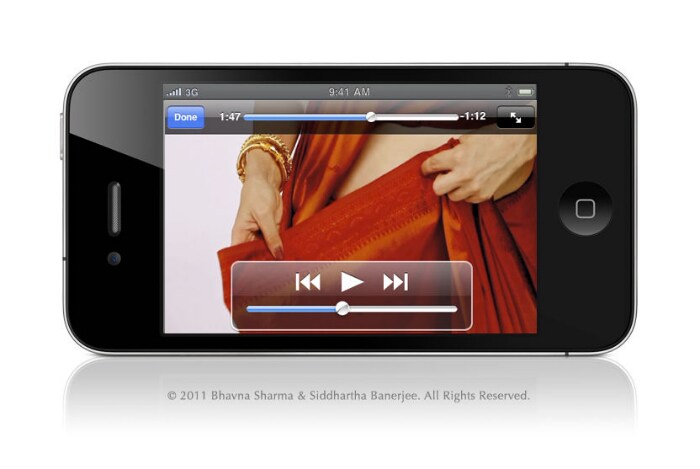 Sari App- Saris are great to look at, but extremely difficult to wear. If you struggle with wearing one, you may want to own this app. Along with step-by-step instructions on how to wear a sari, it provides HD video tutorials too. If you want to know a bit more about this traditional Indian garment, the sari app will help you with a detailed FAQ too.

Price: $1.99

Available for: Apple iOS
4
10 Apps for every Indian
iRangoli- Rangoli is an integral part of Indian tradition, no wonder there is an app that helps you make a rangoli. Designed to cash-on on the Diwali festivities, iRangoli allows you to create a rangoli using an easy to use interface. You can draw various rangoli shapes on pre-defined grid and fill them with one of the 18 colours available. You can then export these patterns as wallpapers or post them on your Facebook page. Even with all this, the app is not intuitive enough on the iPad interface. In does not have a drag-and-drop interface and it does not give a listing of shapes available. One needs to keep cycling through shapes on the grid before getting to the desired options. Though, riddled with these issues – it is still a lot of fun on the iPad.

Price: $1.99

Available for: Apple iOS.
5
10 Apps for every Indian
Map My India – Available on various platforms, it is one of the most popular GPS mapping software and applications for India. Unlike some of the other mapping applications, it stores map data on the device itself rather than using the data services for downloading maps in real-time, there-by incurring data charges. The only problem is the hefty $49.99 price tag.

Available for: Apple iOS, Android
6
10 Apps for every Indian
ICC Cricket World Cup 2011 – The official app for the ICC Cricket world cup is the most popular cricket app in the iTunes app store. It provides all the latest score updates, statistics and also live streams of matches.

Price: Free

Available for: Apple iOS.
7
10 Apps for every Indian
Mundu TV – Now that 3G is available in India, video streaming apps suddenly make a lot more sense. Though, the telecom operators have their own video streaming service, Mundu TV is an app that gives you a bit more.
It streams popular television channels live on your mobile device, including the iPad and iPhone (Visit www.mundu.tv for a full list of supported devices). You can stream television using WiFi or 3G connections. That's not all, you can even pause live TV using the app and the stream will be stored on Mundu TV's servers, without hogging memory on your mobile device.
It streams up to 20 television channels, with a promise to increase it to 100 by June, 2011. The app has already registered more than a million downloads on all platforms. You can try it free for 30 days.

Price: Rs. 49 for 5 channels, Rs. 99 for 11 channels, Rs. 199 for all channels (All prices are monthly subscription charges)

Available for: Apple iOS, Android, Symbian, Blackberry and more.
8
10 Apps for every Indian
Super Badminton 2010 HD- Developed by a Pune based company called Rolocule, it is the best-selling Badminton game in the iTunes apps store. It boasts of impressive graphics and addictive gameplay. The gamer can easily control players using just a couple of virtual buttons. The gripe one would have is the lack of licensed players.

Price: Free for non-HD, $4.99 for HD

Available for: Apple iOS
9
10 Apps for every Indian
NDTV - NDTV has four versions of its main news app for the Blackberry, iPhone, iPad and Android. The apps provides all the latest news as well as streaming video options. NDTV has also released the NDTV Cricket App for Android and iOS. It provides live scores, commentary and the latest updates from the world of cricket.

Price: Free

Available for: iPhone, iPad, Android, Blackberry
10
10 Apps for every Indian
YOGA HD free – Yoga HD free is a very impressive yoga app developed by Vaiden Mobile. It provides instructions for more than 200 asanas, with images as references. Asanas are categorized according to their difficulty, with four difficulty settings. The app contains a calendar through you can track your training sessions. The free version gives a text and images for all the asanas. If you want HD video, you will need to pay $2.99.

Price: Free

Available for: Apple iOS