Wacom is famous for its tablets for artists, digitisers that allow them to create art directly on the computer, instead of having to work with pen and paper and then a scanner. The Bamboo Spark is a little different, as Wacom envisions it as a kind of smart notebook. It is a specialised gadget for note-taking and illustrating, according to Wacom.
The Bamboo Spark is what Wacom is calling a 'smart folio'; notes you make using its smart pen and pad will be turned into digital versions ready to share online. It's like using a scanner to digitise your paper notes, except that there's no scanner. As this kind of product falls outside the day-to-day experience and expertise of the team at Gadgets 360, we worked with Mudit Ganguly, a freelance illustrator and graphic designer who uses such devices for a living, to provide his expert opinion about the Spark. Here's what he thought:
Taking notes and jotting down ideas is something we all do. Whether it's recording the details of a meeting, or roughing out an early concept, we end up using pages upon pages of paper which is then hidden away in a pile of notepads or sketchbooks. Tablets and laptops are being used more and more as you will see in any meeting these days, yet you can't beat the fluidity of writing with a pen on paper.
This is not Wacom's first attempt at creating something that works like this. The first was the Inkling released in 2011. Inkling had mixed reviews, mostly leaning towards the unfavourable. Luckily, nearly everything about the Spark is smarter than its predecessor.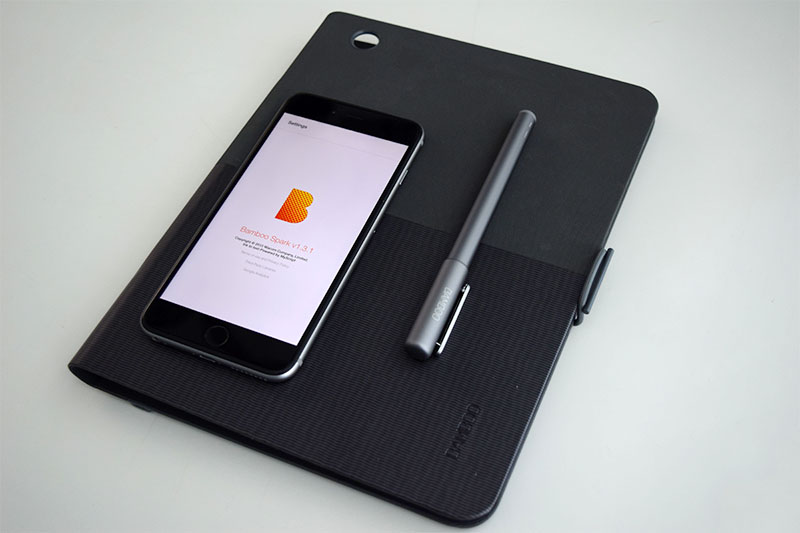 Build
The Wacom Spark holder is really well made. It feels like a binder that one would carry into a lecture at first glance. At the edge is a rubber band that will latch on to the front cover's hook to close the holder tight, just like a folder.
The pen is sleek, and the refills fine point, not medium (which is what comes with the Wacom pen). The fine point made no difference in the line quality on the uploaded drawing. No matter how you hold the pen or how you use it on paper, the line width remains the same.
Sadly, the Bamboo Spark doesn't work with typical ballpoint pens, or any other pens or pencils for that matter. So in case you forget the pen at home, the smartness of the product goes right out the window.
The pen works for taking notes but as any artist will tell you, being restricted to one form of media, in this case ballpoint pens, can be especially frustrating. As for the paper provided by Wacom - a regular A5-sized pad - it's easy to draw and write on. The good thing is you can use any paper you like as long as you use it over the sensor in the binder. Also, the thickness of the paper makes no difference to the final output.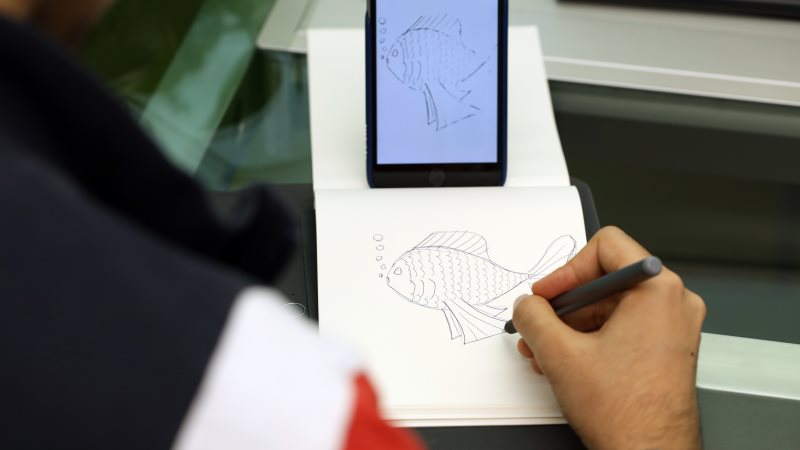 Setting up
Before you can start drawing, you need to download an app from the App Store or the Google Play Store. That means it's really important to make sure your phone is compatible with the app before you buy the product. Otherwise, you can draw all you like but you're not going to have access to the digital versions. The setup itself takes only 45 seconds and is a one-time affair.
Performance
The Spark performs very well as a note-taking tool but when it comes to drawing, it falls short. See the thing is the Bamboo Spark is actually capturing your strokes one by one. It's not really capturing what is shown on the paper. For example, if you draw a man on one page, flip over to the next page and draw a woman then click the button, you're going to get a picture of a man and woman overlapping.
And then there are some logistical issues that are bound to happen: sometimes as you write, your paper may move, and because of that, the lines captured by the app and the lines on your paper will be different.
The Bamboo Spark then, seems designed for note-taking and handwriting. It's mostly accurate in capturing where each stroke appears at an end. The problem we faced were a few stray lines that appeared at the end of a few words and what with the sensor not being particularly responsive, it fails to recreate the lightest strokes. This might not be a big deal for note takers but for artists and designers, this could be a deal breaker.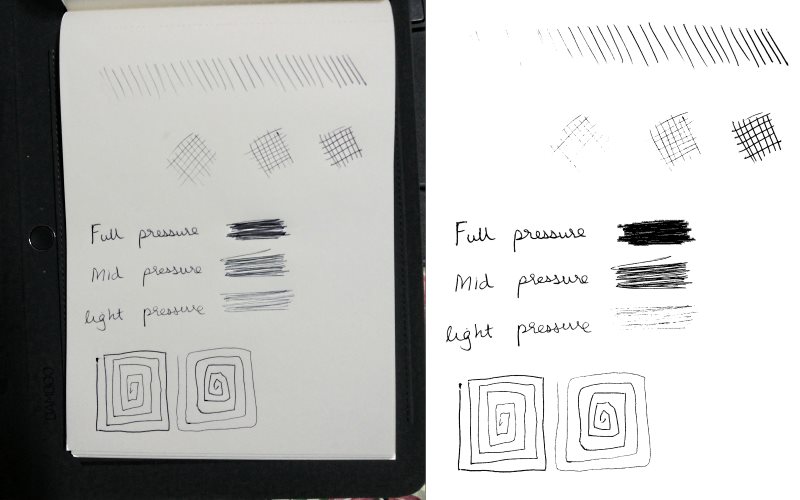 Even shading things is a hit or miss. If a line has already been picked up by the app, further lines over the top simply result in block colour, which isn't always the effect desired and certainly doesn't reflect what's visible on the page.
The main issue with drawing comes down to how often you need to replace the ballpoint refill. If you run out of refills, you must order them from Wacom only, which may be an expensive option in the long run, as each refills costs $1.50 (roughly Rs. 100). And as of this writing, the Wacom site doesn't have refills for the pen available.
Once the page is captured, you can sync it to the Wacom Cloud, Evernote and Dropbox. You can choose to send the page, or collection of pages, as images (JPEG), PDF or Wacom Ink Layer Language (WILL). The PDF have the strokes in vector format which is an amazing feature for artists and designers. The app has a time-based record of your work in progress. You can choose to view your work in time by scrubbing through a timeline, and choose to create an image (aka split) from any time in your progress.
Verdict
If you're at a meeting taking down pages of notes, by the end of the meeting, you could consolidate the pages and email it to everyone at the table under a minute. It's also great for those who like to consolidate their notes into a collection. Say you're attending different lectures and if you'd like to organise at the end of the day, you can sort the notes into different folders. Hence, it's easy to recommend Bamboo Spark to those who take a lot of notes.
But as an artist, you wouldn't use this product much. It restricts you to using a ballpoint pen where instead people might prefer to use pencils or other pens instead. You're better off getting the Wacom One and making do with that as the One is catered to artistic needs.
This review was carried out using a review unit of Bamboo Spark that Wacom provided to Gadgets 360. Ganguly used the product on Gadgets 360's behalf for a week before writing the review. You can buy it online from Amazon at Rs. 9,999 or the Wacom eStore for Rs. 10,975.
Mudit Ganguly is a freelance illustrator and graphic designer who has done illustrations for online publications, and indulges in digital painting in his free-time.
Affiliate links may be automatically generated - see our ethics statement for details.