When Haier reached out to tell us about its new portable washing machine, we figured that there was some sort of mistake. It turns out though, that you really can make a pocket-sized washing machine that doesn't empty your wallet either. The term washing machine - while literally accurate - is probably a little misleading, since it conjures up images of a drum you load clothes into.
The Haier Codo is a small, cylindrical device that can easily be carried in one hand. On one side, it has a water nozzle that is also a piston, and agitates the clothing it is applied to. You just hold it on top of a stain, and move it around a little to clean up any marks.
But how effective is a cleaning system that is smaller than a 500ml bottle of water? We got the Codo handheld washing machine a week ago, and have been trying it out in a number of different situations ever since. It's not perfect, but there were some times where it really impressed us.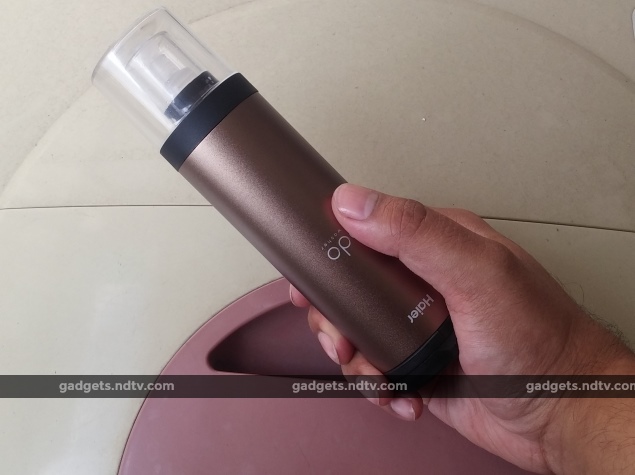 What's it for?
The Codo isn't really useful if you want something to was your clothes on an everyday basis. After a whole day's use, you're going to need a real washing machine to keep your clothes fresh. But think of all the times you've spilled a bit of food while eating, or you've been working and managed to spilled some coffee on your shirt.
We've all done it, and then instantly rushed to the washbasin to try and wash the mess off quickly before it ruins a shirt. Of course, as you probably remember, doing this is both difficult, because you're probably trying to wrangle an entire shirt into the basin, and also inconvenient, because you'll end up getting the whole shirt wet while trying to clean a few spots off.
These are the problems that the Codo is trying to solve, and we have to say, it does a really good job of it.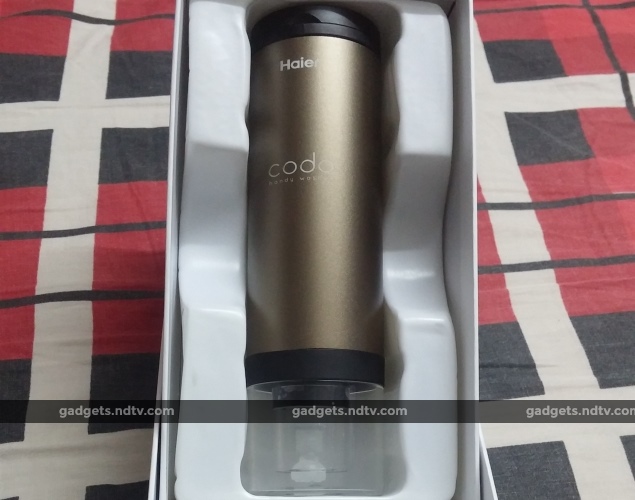 How does it work?
The Codo is powered by 3 AAA batteries and weighs just 200gms, little over the weight of your smartphone. The batteries give it enough power for around 50 washes, depending on usage, and according to Haier, it can take between 30 to 120 seconds to clean up stains, depending on their nature and severity.
The top part, houses the batteries, and the power button. The lower part of the device is a water reservoir, which is capped by a small tube, which has several small holes. To fill the 200ml reservoir, you can unscrew the cleaning tube and then just hold the Codo under a tap for a few seconds. When you hold it up and press the power button, the tube starts to piston up and down, with small amounts of water coming out as well. You can either put liquid detergent into the Codo's reservoir, along with the water, or just put a little detergent powder on stains directly.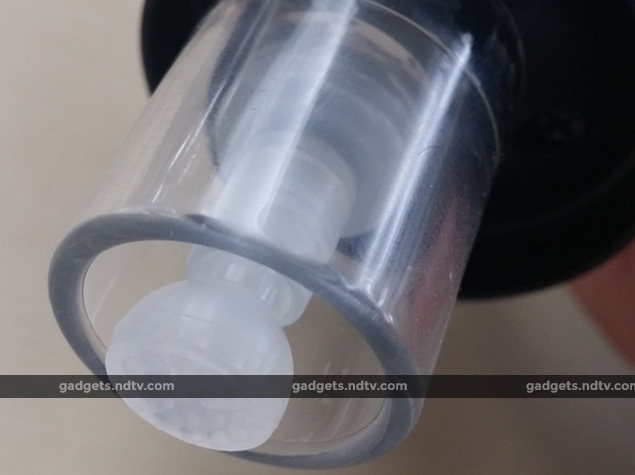 Essentially, this allows you to apply water without getting the whole piece of clothing wet, and the piston moving up and down agitates the cloth (at 700 beats per minute, Haier says), brushing the stain out. Basically, it's like putting some water on your shirt, and then rubbing it by hand, only much easier, more effective, and less messy.
And... does it work?
Our testing process of the Codo started a little unexpectedly when a bit of dal from dinner wound up on a t-shirt. Without even taking it off, we were able to use the Codo to quickly remove the dal stain. It left a small wet patch on the T-shirt of course, but it was really easy to do and took less than a minute to completely clean the spot. The amount of water is minimal too, so it dried of quickly, and there were no marks or stains left.
A more formal testing process followed, which involved a few old handkerchiefs, and various different foodstuffs. Ketchup and sriracha sauce both proved to be tenacious opponents, but they were soon bested. Oil stains are more tricky, and if you managed to drop some deep fried stuff onto your shirt, then the stain isn't going away as easily. Eventually we were able to get a satisfactory result, but it didn't disappear completely.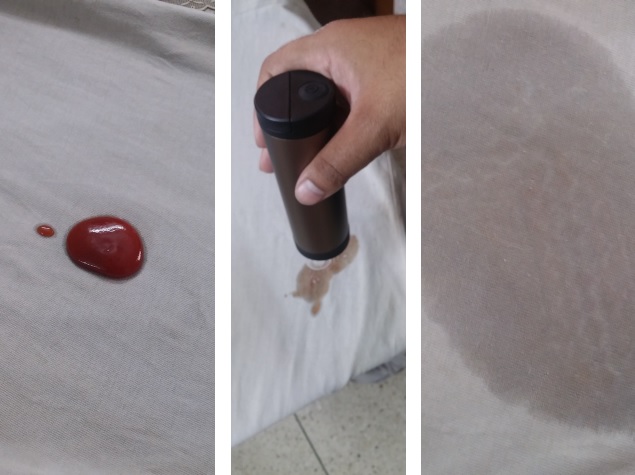 The gravy from chicken Manchurian was the second easiest stain to remove, but dal in particular proved to be no match for the Codo. Coffee, like oil, was hard to remove and a small mark remained even after using the Codo for a few minutes. Ink stains from a leaky ball pen defied all attempts at removal, and if you're unlucky enough to get a pen that leaks in the middle of a business trip, you'll just have to try and make up a funny story to tell everyone you get into a meeting with.
Should I get this?
Well, that depends. Sure, the Rs. 3,999 price tag you have to pay for this device is pretty reasonable, particularly if you're frequently traveling for work, and consequently worried that spills and stains could seriously limit your wardrobe. If you're someone who likes fancy gadgets and considers the price to be purely disposable, then don't even think about it, just get the Codo because it is really effective.
For most of us though, it's a little more money than you'd spend on just a whim. If you're a stickler about how you present yourself, then it's definitely worth getting the Codo. Spills are going to happen; once we ended up dipping our tie in a bowl of soup. It was a nice tie, and it ended up in the trash. The Codo could help in situations like that one.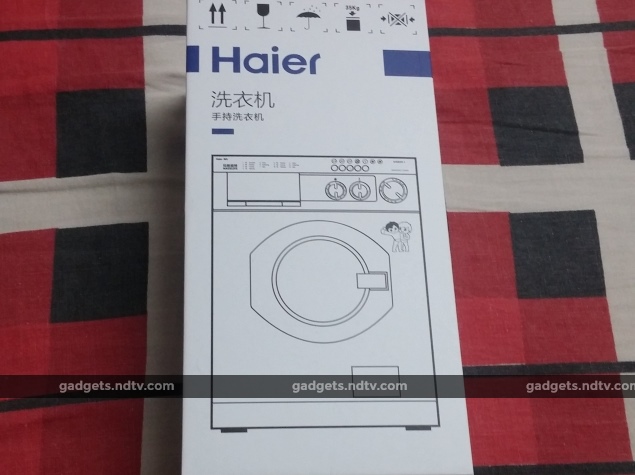 More realistically, when you're traveling, you won't be carrying so many clothes, and even a small splotch on a formal shirt can leave you looking slovenly and unprofessional in meetings. It's in these scenarios that the Codo could really shine; couple that with the fact that it uses AAA batteries which are easy to get anywhere in the world, and the Codo starts to look convenient for frequent travellers.
The Codo is also pretty easy to use, and since you're only getting the spot where the stain was wet, you can go to your room, take off your shirt and clean it, and get back to wearing it in just a few minutes. We're not sure how many people really need something like this, but we can see quite a few finding it convenient and useful nonetheless.
The Haier Codo is available via Snapdeal. The Codo has been launched at Rs. 3,999 but this will change to Rs. 4,999 after one month.
Affiliate links may be automatically generated - see our ethics statement for details.