While its previous doodle celebrated the beginning of the
Fifa
World Cup 2014 in Rio de Janeiro with references made to Christ the Redeemer and also to the Sugarloaf Mountains located in the city, Google's latest
doodle
is a tribute to the opening ceremony that was held at the Arena Corinthians in Sao Paulo on Thursday.
The new doodle features the letters written in an elongated font, with the 'L' featuring the stick hands and legs (from the previous doodle) holding a staff and the green and yellow ball, and bobbing up and down. The 'E' is depicted beating a drum frantically. Curiously enough the colours on the drum are a reminder of the Rastafarian colours popularised by singer Bob Marley.
(Also See: World Cup 2014 Kick Off Marked With an Animated Doodle)

On the doodle, World Cup page a statement about the doodle reads, 'The World Cup opening ceremony was so inspiring-and what an unbeleafable coincidence-our next doodle has a dancing tree person too. Congrats Brazil!' The doodle is visible in almost all the parts of the world barring a few nations in the North of Africa.
An alternate version of the doodle has the first 'G' beating the drums with the 'L' reprising its role as the tree person and dancing.
The 25-minute opening ceremony at the Arena Corinthians saw the tournament mascot ' Fuleco' a vulnerable species of armadillo found in Brazil, arriving, followed by a huge troupe of dancers showcasing the different dance forms in Brazil intertwined with mixed martial arts from Brazil. The background had the referee's whistles blowing along with cymbals and drums. The centre of the field saw a huge, revolving 3D ball that carried images on it, including those of the tournament ball Brazuca.
The show-stopping event for the game included singers Pitbull, Jennifer Lopez and Claudia Leitte perform the official World Cup song 'We are One'. While the opening ceremony drew mixed reactions the world over, with people also slamming it, Google has clearly chosen to highlight the 'unbeleafable coincidence' of the games.
For more
Google doodles
visit
this page
.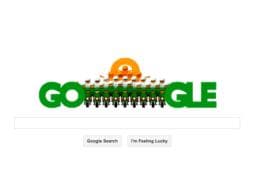 The best Google doodles of 2014