After months of news more unsavoury than happy regarding the delays and charges of corruption in the construction of the stadiums in Brazil, the 2014 Fifa World Cup is scheduled to begin on Thursday. And Google is celebrating it as it knows best, with an animated
Google doodle
.
For anyone logging on to the Google home page, there is an interesting depiction of Rio de Janeiro, Brazil. A green and canary yellow football rolls into the foreground, with the letters in the Google logo depicted with hands and feet bobbling about in joy. The background depicts a cartoon version of Rio.
(Also see: How to Watch Fifa World Cup 2014 Online)
There have been very subtle references to Brazil made in the doodle, for instance in the far background there is a depiction of the statue of Christ the Redeemer. The 30-metre statue (not including the eight metre pedestal on which it is mounted) weighs 635 tonnes. Its arms stretch out 28 metres wide. Located on the peak of the Corcovado mountain in the Tijuca Forest National Park, the statue overlooks the city of Rio, and is as much of a Brazilian landmark as football, samba, and the carnival.
Also in the far background there are two cable cars travelling to and fro from the Sugarloaf Mountain. Located at a height of 396 metres the mountain is situated near the mouth of the Guanabara Bay on a peninsula looking over the Atlantic Ocean. Interestingly, there are no references to the favelas, which make up for a huge chunk of Rio. Even though the favelas have traditionally been depicted in movies, it is also a reminder of the stark reality that a majority of Brazil's population is still very poor.
The 20th edition of the Fifa World Cup, which begins on Thursday, will see the host nation Brazil take on Croatia in the opening game at the Arena Corinthians in Sao Paulo. Brazil is a five time winner of the competition, with their last win coming over a decade back in Korea in the 2002 World Cup.
Google has chosen to keep the doodle a bright and happy one, despite the obvious undercurrents that preceded the World Cup. Primary amongst them being the delayed construction of the stadiums (seven of which are new and the other five renovated), the poor working conditions, and also the intense corruption charges pressed against the local government bodies and construction companies.
For more
Google doodles
visit
this page
.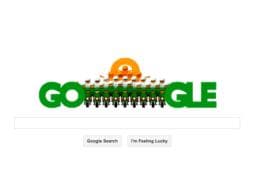 The best Google doodles of 2014