Wassily Kandinsky, full name Wassily Wassilyevich Kandinsky, was a Russian painter born on December 16, 1866. Tuesday marks his 148th birthday and Google has commemorated the day with a doodle. Kandinsky was one of the most influential painters and art theorists of the previous century.
Although Wassily Kandinsky was born in Russia, much of his best work had its foundation in Germany - where he studied - and France, where he moved as Nazi influence grew in Germany before World War II.
The son of a tea merchant, Wassily Kandinsky's early work was influenced by the Russian architecture and his study of folk art in Moscow's Vologda region.
Wassily Kandinsky's work featured colour symbolism. He often recalled how he felt like he felt like he was moving into a painting when he saw many of Russia's houses and churches.
Kandinsky was a teacher of law and economics in Russia. At the age of 30, he gave up teaching to join art school in Munich, Germany. Before joining art school, Wassily Kandinsky was influenced by the works of Monet.
His move to Munich began his artistic career, which spanned almost 50 years until his death in 1944. Wassily Kandinsky lived in Munich and studied art. Around this time, he began to emerge as an art theorist as well. He travelled across Europe from 1906 to 1908 and during this time he painted The Blue Mountain - one of his most famous works.
Wassily Kandinsky returned to Russia when World War I broke out. Kandinsky did not agree with the views of some of the members of Moscow's Institute of Artistic Culture, who termed Kandinsky's work too individualistic and bourgeoisie. During his time in Russia, Kandinsky painted little and spent most of his time teaching art theory. He returned to Germany in 1921.
He continued to paint and teach in Germany until 1931, when the Nazis confiscated 57 of his paintings and shut down the art school. That forced Wassily Kandinsky to move to France. Much of his work in Germany included geometrical elements. Google's doodle pays tribute to this aspect of Kandinsky's works.
Tuesday's Google doodle features several geometrical elements in various colours on a yellow background. This is a tribute to Wassily Kandinsky's famous painting On White II.
Wassily Kandinsky painted from his apartment in Paris. His work included non-geometric forms and he also mixed sand with paint to give a rustic texture to his paintings. Kandinsky became a French citizen in 1939. He died in France on December 13, 1944.
For more Google doodles, visit this page.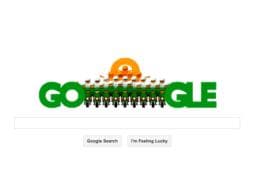 The best Google doodles of 2014