While Google's Android Auto has been making rounds in the news since last year, the CES 2015 event finally saw firms incorporating the platform in their cars and in-car products. In addition, Apple's Android Auto counterpart, CarPlay, has also been stealing the spotlight as several of the in-car systems have been designed for both platforms.
Big car manufacturers as well as the automobile accessory-making firms at CES 2015 have shown off products using Google and Apple's automobile-centric offering at CES 2015. Volkswagen, Kenwood, Parrot and Pioneer are some of the brands that have introduced their Android Auto and Apple CarPlay-enabled in-dash receivers, multimedia receivers and other infotainment systems at the event.
It is worth mentioning that Android Auto will also be arriving in vehicles from other popular automobile brands including Audi, Bentley, Chrysler, Hyundai, Maserati, Renault, Nissan and more.
For those who are unaware, Android Auto was launched back in June last year alongside Android L and has been designed to work in coordination with the Android-based devices in the cars. The service will let users easily access functionalities like Maps, Music, and other apps including TuneIn Radio, WhatsApp, Spotify and more. Android Auto is equipped with the Google Now voice-based service to access certain features via voice command to prevent drivers from getting distracted. The firm also released Android Auto APIs for developers to create audio and messaging apps for the platform in November last year.
CarPlay, on the other hand was also announced last year, includes a voice command system along with other features like call alerts, messages, and music.
German automobile giant Volkswagen confirmed that it will ship its "modular infotainment platform" (MIB II) (seen above) in the United States and Europe later this year, with its App-Connect system featuring MirrorLink compatibility, which will allow users to control the car's infotainment system and its apps in the same way as they do on their linked smartphone. Devices from companies like Samsung, LG, HTC and Sony, will be compatible with the system. Volkswagen adds that the MIB II system will also be compatible with Android Auto and Apple CarPlay.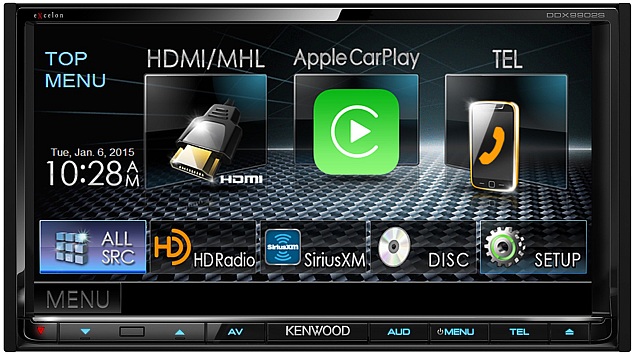 Kenwood, a Japanese radio and portable audio equipment maker, also made an entry into the Android Auto market with its DDX9902S (seen above) multimedia receiver, which also supports CarPlay. The specification of the multimedia receiver has not yet been disclosed However, the firm has mentioned its multimedia receiver as a 'premium' device, which also features a "high-sensitivity touch screen."
Features including smartphone connectivity, Bluetooth pairing for music, MHL support via HDMI port are also equipped. Two music apps for Apple, Pandora and iHeartRadio will come integrated in the unit. HD Radio, Sirius XM Radio, rear view camera, and steering wheel audio controls integration are also included. Kenwood is yet to give details on the DDX9902S's price and availability.
Pioneer, another early adopter of the Android Auto platform, announced its second generation of Networked Entertainment eXperience (NEX) in-dash receivers that, like others, support Apple's CarPlay. The Japanese multinational has launched a total of five products under its NEX line-up namely AVH-4100NEX ($700 (roughly Rs. 44,300)), AVIC-8100NEX ($1,400 SRP (roughly Rs. 88,600)), AVIC-7100NEX ($1,200 SRP (roughly Rs. 76,000)), AVIC-6100NEX ($900 SRP (roughly Rs. 57,000)), and AVIC-5100NEX ($750 SRP (roughly Rs. 48,000)). The firm added that these units will be available starting March this year. The five new NEX in-dash receivers introduced by Pioneer features a 7-inch touchscreen and integrated Nokia Here Maps. MirrorLink connectivity, Bluetooth are also equipped.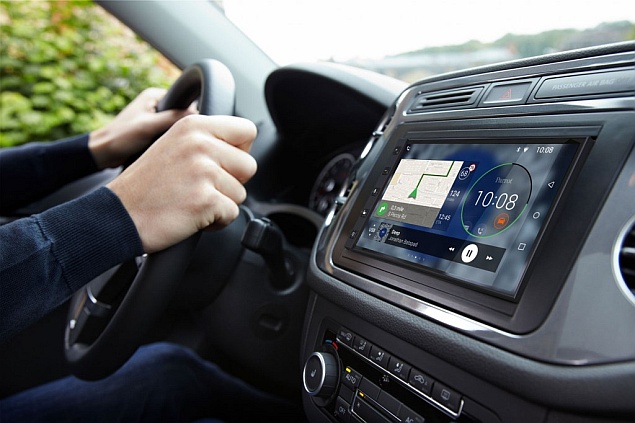 Lastly, Parrot announced its RNB6 (seen above) in-vehicle infotainment system, which features a 7-inch HD resolution 'IPS Pro' display alongside four 55-watt audio amplifier and wide-angled full-HD dash cam featuring 'Super HDR'. Besides the regular features that come with Android Auto, the Parrot RNB6 in-dash system will also show air control, parking assistance, tire pressure details and more. The Android Auto and CarPlay supporting device runs on a slightly customised version of Android 5.0 Lollipop and offers some audio presets to download for select cars. The unit will also let users adjust the sound stage inside the car. This feature delivers music to the driver in such a way as if the person is sitting in the middle instead on either side. Unfortunately, the firm did not share the price or the availability details of the RNB6 at the CES 2015 event. Details on the device can be seen here.