Trust Google to come up with an innovative doodle to celebrate festivals that have a global charm to it. This time around it is Valentine's Day. Already up on its New Zealand
home page
the latest interactive doodle by Google allows users to create customised chocolates on Valentine's Day.
The
Google doodle
(see above) features a couple with the guy making up the first 'O' and the girl making up the second 'G' of the word Google. The second 'O' is the candy box on which a user can click to create their customised candy boxes. A magnifying glass is also visible to the right, which when clicked, will bring up the search results page for Valentine's Day.
With three candies in Google's Valentine's Day doodle box (see below), a user can create each with multiple combinations of ingredients, of which 13 choices are available - namely milk, dark and white chocolates; sprinklers; gummy bears; toffees; roasted almonds; strawberries; ants; cherries; litchis; walnuts and salt.

Once the three candies are made, the heart-shaped box gets gift wrapped (see below) with the word Google emblazoned across it with a link below it so that the user can share it with their Valentine on Google+, Facebook or Twitter.

In a way it is an innovative manner to express one's love for his or her Valentine. Valentine's Day, which is celebrated annually on February 14, is the birth anniversary of St. Valentine. While the festival has been celebrated for the last century and a half, it is only in recent times, with the advent of marketing-centered around the festival with varied gifting themes, that it has found a lot of prominence as a celebration of love the world over.
Google's previous doodle on its India homepage was the one on
Sarojini Naidu
, celebrating her birthday on its Google. Recently their doodle on the
Winter Olympics
, with LGBT colours supporting gay rights and condemning Russia's policies on homosexuality won rave reviews from people across the globe.
For more
Google doodles
visit this page
this page
.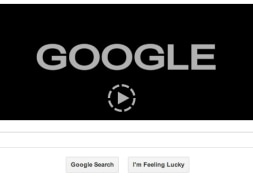 Best Google doodles of 2013