'Tis the season to be jolly, chimes Google once again with Thursday's doodle on Christmas day.
The third in Google's series of Holidays 2014 doodles, the 'Tis the season Christmas day doodle is an image that features a Christmas wreath along with holly and what appears to be mistletoe decorating a green door, with a Google banner in between including a glowing play button on the second 'O'.
The play button on Thursday's 'Tis the season doodle will either play a video in place of the doodle on the same page, or direct users to the same video on YouTube (seen below) by the Google Doodles team, titled Google Holiday Doodle 2014. The video description reads, "An animated doodle highlighting travel during the holiday season."
The Google Holiday Doodle 2014 video is two minutes and 26 seconds long, and starts off with the same mistletoe and holly decorated door as seen in Thursday's 'Tis the season doodle. It features the home owner start of on a journey with travel bags, turning into different characters on different modes of transportation ranging from a skateboard and snowmobile to a ship and a plane.
The Google Holiday Doodle 2014 video also features depictions of the Christmas spirit in action, with the characters in the video helping each other out where there normally wouldn't - 'Tis the season to be jolly after all. On its doodle archive page, which also includes the initial designs and looped gifs for Thursday's doodle, Google doodler Matt Cruickshank describes the motivation behind the video.
"Holidays almost always involve travel and transport, and I wanted to celebrate the variety of ways we do this. Choosing a suitcase/backpack motif, I set about creating multiple people that transform and adapt to their surroundings. It's a "door to door journey" seen through many eyes. Whatever our destination this holiday- a snowy mountain, a perfect wave or a crackling fire, we hope you enjoy the ride! [..] The music is "Seabird" by Matt Saxton."
Apart from the video, upon clicking the doodle, users are directed to a search result page for 'Tis the season!, which has visibly changed since Google published its first Holidays 2014 doodle on Tuesday.
The 'Tis the season results page on Thursday displays Wikipedia's disambiguation entry for the phrase 'Tis the season. What do you think of the Google Holiday Doodle 2014 video, or the rest of Google's 'Tis the season Holidays 2014 doodles? Let us know in the comments section.
For more Google doodles, visit this page.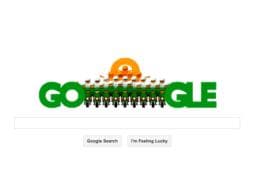 The best Google doodles of 2014
For the latest tech news and reviews, follow Gadgets 360 on Twitter, Facebook, and Google News. For the latest videos on gadgets and tech, subscribe to our YouTube channel.
Related Stories