Google's World Cup 2014 doodle
on Wednesday
was aimed at highlighting the 'Streets of Rio', and depicted the favelas or slums of the city. This had come under sharp criticism from a section of people across the globe, who deemed the doodle as 'offensive' and said it made light of the 'poverty of Brazil'. On the other hand, others felt that leaving the favelas out would amount to completely neglecting the problem.
Clearly with Thursday's World Cup 2014 doodle, Google has chosen to stay away from any such controversy. Going back to its theme of making happy doodles in-sync with the footballing mood of Brazil, the latest doodle (number 17) features the second 'G' in the doodle showcasing its footballing skills with the green and canary yellow ball, (the only constant through all the doodles). While the other letters are standstill, the second 'g' performs what is popularly referred to as 'keepy-uppies'- controlling the ball without letting it touch the ground.
The doodle is visible in most parts of the world, sans parts of East, North and West Africa. Clicking on Thursday's doodle shows search results for World Cup 2014, including the live 2014 Fifa World Cup schedule and scores widget, apart from the latest news on what is considered the world's biggest sporting event.
With World Cup 2014, the Jules Rimet trophy is widely touted to come back home to Brazil for the sixth time. Even though the five time champions will face stiff competition from the likes of the Argentinians, the Germans and the Dutch. It would also be a first for Brazil if they win the World Cup on home soil.
Thursday's World Cup 2014 doodle also represents the street footballing culture of Brazil, where keepy-uppies are regularly practised by players to improve their ball control as well as concentration. The style emerged heavily during the 50's, 60's and was refined in the 70's when Brazil showcased its dominance in world football.
World Cup 2014 has already been plagued by problems of misappropriation of funds, corruption charges against local construction companies and government agencies. In times like these the local population has been fervently hoping for the Verde-Amarela (the green and yellow-nickname of the national football team) to lift the trophy for a record sixth time on home soil.
For more Google doodles visit this page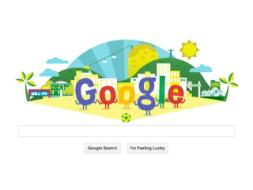 Google's World Cup 2014 Doodles