Tesla Motors Inc unveiled Tesla Energy - a suite of batteries for homes, businesses and utilities - a highly-anticipated plan to expand its business beyond electric vehicles.
Tesla introduced its home battery, named Powerwall, a rechargeable lithium-ion battery to store energy at residential level for load shifting, backup power and self-consumption of solar power generation.
"Our goal is to fundamentally change the way the world uses energy on an extreme scale. The goal is complete transformation of the energy infrastructure of the world," Chief Executive Elon Musk told media at Tesla's design studio at Hawthorne, California on Thursday.
When asked whether Tesla would consider changing its name to Tesla Energy, Musk would only say that the company now had two Web addresses: teslamotors.com and teslaenergy.com
Selling price for Powerwall to installers is $3,500 for 10kwh and $3,000 for 7kwh, which excludes inverter and installation prices.

Musk said Tesla's lead installation partner for home battery will be SolarCity Corp, but there will be many others.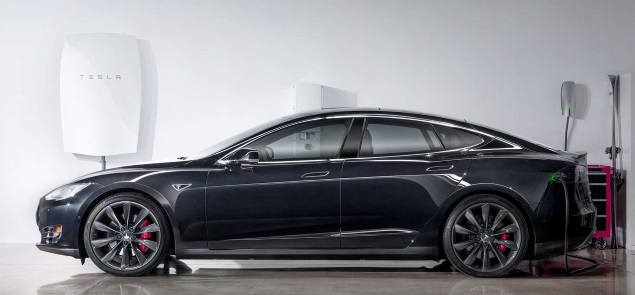 Tesla expects to have low but growing gross margin in battery products in the fourth quarter and battery products to be materially profitable probably some time next year.
Deutsche Bank estimates sales of stationary battery storage systems for homes and commercial uses could yield as much as $4.5 billion in revenue for Tesla. Analysts expect Tesla will build stationary storage systems around the same basic batteries it will produce for its vehicles at a large factory the company is building in Nevada.
Stationary storage systems could be part of a fossil-fuel-free lifestyle in which an individual has solar panels on the roof, generating electricity that can power home appliances and recharge batteries in a Tesla Model S sedan parked in the garage.
Though valued at just $200 million in 2012, the energy storage industry is expected to grow to $19 billion by 2017, according to research firm IHS CERA.
Tesla and SolarCity will face competition for subsidy money. Coda Energy, which rose from the ashes of a failed EV maker and is now owned by Fortress Investment, and startups backed by the likes of Total, GE and Siemens are going after shares of the stationary storage market.
© Thomson Reuters 2015