Star Trek: The Original Series 46th Anniversary has been marked by a Google doodle on Saturday. With this, Star Trek: The Original Series has become only the second television series to have a Google doodle dedicated to it, joining another iconic series The Flintstones in the 'elite' club.
Both series were originally broadcast in the United State in the 1960s. The Flintstones made its debut on ABC on September 30, 1960 and the series that followed the adventures of Fred Flintstone, a working class Stone Age man, overcame a sluggish start to be regarded as one of the all-time classics of television. Star Trek: The Original Series first aired on September 8, 1966, weeks after The Flintstones' last episode aired on April 1, 1966.
Much like Star Trek: The Original Series, The Flintstones inspired many other TV shows, notably The Simpsons, which broke The Flintstones' record as the longest running animated series on television. The similarities between the two leading male characters, Fred Flintstone and Homer Simpson, have been well documented.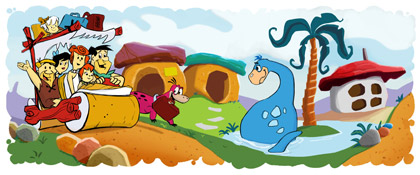 The Simpsons have referenced The Flintstones in several episodes. In the episode Homer's Night Out, Homer's local convenience store clerk, Apu remarks "You look familiar, sir. Are you on the television or something?" to which Homer replies "Sorry buddy, you've got me confused with Fred Flintstone." Can there be a bigger homage than that?

Similarly, Star Trek: The Original Series marked the start of an iconic series, giving birth to sequels, prequels, movies, animated series, and much, much more. The characters of Captain Kirk, Spock and Dr. Leonard 'Bones' McCoy will remain etched in the memory of anyone who ever saw the series.


Best Google doodles of 2012
For more
Google doodles
, visit
this page
.
For the latest tech news and reviews, follow Gadgets 360 on Twitter, Facebook, and Google News. For the latest videos on gadgets and tech, subscribe to our YouTube channel.
Related Stories