A number of rumours have been popping up regarding Apple's much-anticipated smartwatch, iWatch, and the company's focus on hiring health and fitness experts.
It has now been reported that Apple had opened a job listing on its website for physiologists and engineers in order to run various health-related tests. Apple has removed the listing from its official page, but 9to5mac managed to get a screenshot of the page (seen below).
The job listed mentioned that it required employees to "design and run user studies related to cardiovascular fitness & energy expenditure, including calories burned, metabolic rate, aerobic fitness level measurement/tracking and other key physiological measurements."
The qualifications mentioned to apply for the position are "Good understanding of physiological monitoring equipment, measurement techniques and interpretation of results; Experience with indirect calorimetry to measure energy expenditure for a range of activities and environments; Ability to design tests isolating the impact of various factors (activities, environments, individual subject differences, etc.) on the physiological effects being measured; Experience with exercise testing - how to conduct, interpreting results, determining when to halt testing, etc."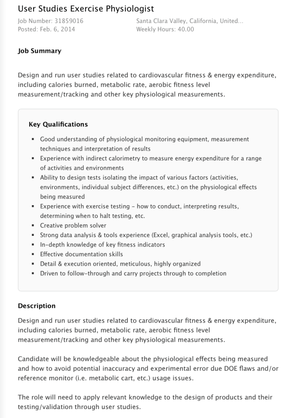 Recently enough, the Cupertino firm was reported to have hired Roy J.E.M Raymann from Philips Research, who has a considerable amount of experience in wearable and sensors, with an expertise in sleep research.
Last year, Apple hired some medical and fitness experts, such as like Jay Blahnik, Nike's advisor, and Dr. Todd Whitehurst, former Senseonics vice president. The firm reportedly also took in Ravi Narasimhan from Vital Connect, a medical devices firm along with Nancy Dougherty from Sano Intelligence, in its iWatch development team. It has been understood that the firm also hired Michael O'Reilly, former executive at Masimo Corporation, who has worked on non-invasive pulse sensors previously.
While all these reported events, along with the numerous patents, do point to the existence of the iWatch, Apple may still of course have something unexpected up its sleeve for the market.