Sony and Strontium have launched USB On-The-Go (OTG) flash drives in an attempt to provide alternate external storage option for smartphones and tablets which lack microSD card slot.
Sony's dual-USB flash drive features Micro-USB and Type A USB 2.0 connectors for sharing and storing content in Android devices. The Sony USB flash drive for smartphones and tablets can be used with Android devices with USB flash drive connectivity using Android version 4.0 Ice Cream Sandwich and above. The company also notes that the device is planned for future compatibility with Android 4.4 KitKat.

The Sony USB flash drive for smartphones and tablets will be available in capacities of 8GB ($19.99), 16GB ($29.99) and 32GB ($62.99), and in a choice of 3 different cap colours. The Japanese maker has announced that the device would hit the market by January 2014, though there's no official word on India availability yet. A companion Sony file manager app is available for free on Google Play store.

Commenting on the announcement, Viviano Cantu, director of consumer media marketing, Sony Electronics said, "These new drives combine convenience, peace of mind and performance and are perfect for mobile multi-tasking."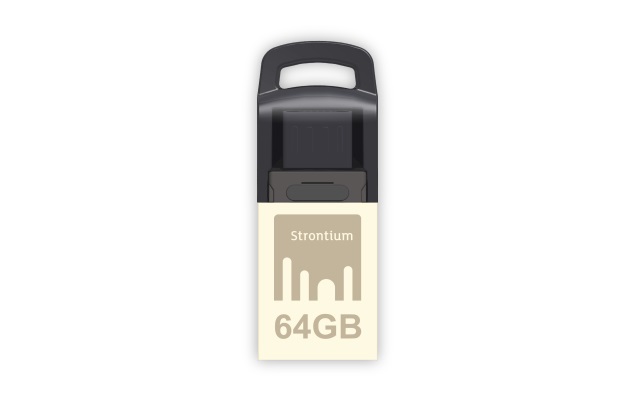 On the other hand, Strontium Technology has also launched USB OTG drives for smartphones and tablets. Just like Sony, Strontium's USB OTG drives have a standard USB port on one end and a Micro-USB on the other end, and can be accessed directly from a computer or from any smartphone or tablet that support USB OTG.
Strontium On-The-Go USB drives will be available in capacities of 8GB to 64GB and will come with 5-year warranty. The Strontium 8GB, 16GB, 32GB and 64GB OTG USB flash drive are priced at Rs. 575, Rs. 950, Rs. 1,825 and Rs. 3, 650 respectively for the Indian market.
Commenting on the launch Vivian Singh, President and CEO, Strontium Technology said, "With Strontium On-The-Go USB drives, consumers can transfer files easily between smartphones, tablets and computers."