Sony, besides its flagship smartphone Xperia Z2 and tablet, also announced a new wearable device, dubbed Sony SmartBand SWR10, at the MWC 2014 event being held in Barcelona, Spain.
The SmartBand SWR10 will be available in 60 worldwide markets next month. The Sony SmartBand focuses on tracking the fitness and health of users and also monitors user's sleep, receive notifications and handle media playback options.
The Sony SmartBand, like many of the firm's previous devices, is waterproof and comes with a 'Lifelogging' feature. The feature lets the users see what images users have taken, what places they have been visiting and how they have been 'communicating with the world'.
The SmartBand's release next month will be followed by a special World Cup edition during this summer. The band will be priced at EUR 99 (roughly Rs. 8,000).
Sony also announced its much awaited Xperia Z2 tablet and Xperia Z2 smartphone. The tablet will be available in two variants: Wi-Fi and LTE/3G. The Japanese smartphone maker also introduced its successor to the Sony Xperia Z1 smartphone, the Xperia Z2 at MWC 2014.
The firm additionally announced its 4G-enabled mid-range device, dubbed the Sony Xperia M2, with Android 4.3 Jelly Bean. The price for the Xperia M2 has not been revealed, and it will go on sale globally in April 2014. Sony says it will be priced at under EUR 220 MSRP (roughly Rs. 18,800).
Huawei at MWC announced the TalkBand B1 sports a 1.4-inch flexible OLED display, features wireless calling and has a Bluetooth 4.1 earpiece embedded within it.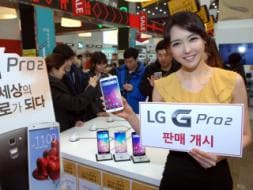 MWC 2014 in pictures