The Nightingale of India Sarojini Naidu is the subject of Tuesday's doodle on the Google India homepage.
Sarojini Naidu was born as Sarojini Chattopadhyaya in Hyderabad in 1879, the eldest of eight siblings, and was considered a child prodigy. Her parents were luminaries in their own fields, with her father a respected doctor who founded the Hyderabad College (later named Nizam's College), and her mother an acclaimed Bengali poet. Sarojini Naidu passed her Matriculation examination from the University of Madras, and went on to complete her education in England, first at King's College London and later at Girton College, Cambridge.

Apart from her contributions to the Indian independence and suffragette movement, Naidu was also famous for her literary career. She began writing at the age of 13, and her first collection of poems, The Golden Threshold, was published in 1905.
The Google doodle marking Sarojini Naidu's birth anniversary is a simple image (seen above) featuring a portrait of Naidu in place of the second 'o' of the Google logo, and a blue fountain pen in place of the 'l'. The image features mouse-over text, which says 'Sarojini Naidu's 135 birthday'.
The search giant has chosen to honour Sarojini Naidu with a doodle for obvious reasons, not in the least because of her importance in the history of the Indian independence movement. Naidu contributed to the framing of the Indian Constitution, and was also famously the first Governor of the United Provinces, the first woman to be named the governor of an Indian state, and the first woman to become the president of the Indian National Congress.
For more
Google doodles
visit this page
this page
.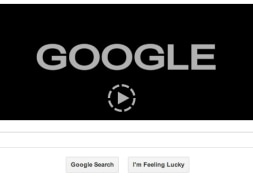 Best Google doodles of 2013
For the latest tech news and reviews, follow Gadgets 360 on Twitter, Facebook, and Google News. For the latest videos on gadgets and tech, subscribe to our YouTube channel.
Related Stories