Samsung has launched the "world's first" wearable device with a curved Super AMOLED touch display, a fitness band dubbed the Samsung Gear Fit. The company showcased the new health band at the Samsung unPacked 5 event during MWC 2014, where it also showcased the Galaxy S5 - which also has a strong fitness focus.
Smaller and lighter than the Gear 2 and Gear 2 Neo smartwatches, the Gear Fit fitness band is focused on health. Samsung is however touting the many ways its fitness band is better than others, with unprecedented interaction with the smartphone - such as notifications, rejecting calls, and playing music - almost making it a smartwatch.
The Samsung Gear Fit features a 1.84-inch Super AMOLED display with a 432 x 128 pixel resolution. The Gear Fit comprises of a pedometer, heart rate monitor, and a sleep monitor. Other built-in functions include a fitness app, exercise mode, stopwatch, timer, schedule, smart relay, media controller. Additionally, the users will get active notification alerts for SMS, calls, e-mail and apps on the Gear Fit.
The Gear Fit also features dust and water resistance IP67 certification. Also onboard is Bluetooth 4.0 LE (low energy) wireless connectivity. The Gear Fit also comprises of an accelerometer and a gyroscope.
A 210mAh battery powers the Samsung Gear Fit, which gives a typical usage of 3 to 4 days, and up to 5 days with low usage. The device measures in at 23.4 x 57.4 x 11.95 mm (body only) and weighs 27 grams.
The Gear Fit would be available in Black, Grey, and Orange colour variants, apart from different colour and designer straps as well. The device will be compatible with 20 Galaxy devices, however just which devices haven't yet been detailed, apart from of course, the Galaxy S5. The smartphone and its accessories, including the Gear Fit, will be available in the markets starting 11 April this year.
"[Our] Gear product portfolio continues to expand with unique devices for a wide range of lifestyles, including the new Gear Fit designed to help those consumers striving to live more fit and active lives without sacrificing their own personal style or their ability to stay connected on the go," states JK Shin, CEO and President of IT & Mobile Division, Samsung Electronics.
Notably, Sony on Monday launched its own fitness tracking band, the SmartBand SWR10, which features compatibility with Android devices other than those manufactured by Sony.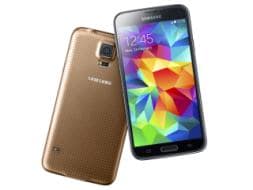 Samsung Galaxy S5 and Gear Fit in pictures