Samsung Electronics Co Ltd unveiled a smartwatch on Wednesday that works as an accessory to its market-leading Galaxy smartphones, with a small screen offering basic functions like photos, hands-free calls and instant messaging.
The world's top handset maker hopes the Galaxy Gear will boost the appeal of its range of Android-powered smartphones, as it battles to maintain its supremacy in the rapidly saturating high-end mobile market against arch rival Apple Inc.
Its launch, timed to coincide with the start of the IFA consumer electronics trade show in Berlin, also signals that the South Korean giant is more than just a fast follower in innovation behind Apple, which is preparing to release a new iPhone next week but is yet to go public with any wearable devices.
"It's a companion device that will keep us constantly connected," Samsung Executive Vice President of Marketing Lee Young-hee told reporters in Seoul ahead of the smartwatch's launch. Her remarks had been embargoed until Wednesday.
"It will increase user experience with the Galaxy Note 3 and with this, we aim to create a new lifestyle trend, initially targetting young trend-setters and style icons."
The smartwatch features a 1.63-inch (4.14-cm) screen as well as a basic camera, and will connect to Samsung's latest Galaxy Note 3 smartphone via wireless Bluetooth technology. It will make calls, display messages, record videos and snap photos, all while the user's phone stays in their pocket or handbag.
The success of Samsung's latest smartwatch - clunky earlier versions in 1999 and 2009 didn't go down well with consumers - will be measured as much in how it affects sales of high-end Galaxy smartphones as in sales of the device itself.
But it is also a shot across the bows of Apple and Google Inc, which are widely believed to be working on their own wrist-worn devices in what analysts expect to be the next phase of the mobile communications boom.
"We had smartwatch-type products before, but they were mainly for making phone calls. What's different with the Gear is it's got far more useful functions. It's usability has increased significantly and design is not bulky," said J.K. Shin, Samsung's co-chief executive and head of mobile business.
Not revolutionary
The Gear, which will go on sale later this month for $299, doesn't have a flexible or curved display that some industry watchers had hoped to see on Samsung's newest products.
Instead, its OLED touch screen features half the picture quality of high-end smartphone displays and the camera nestling in the strap has only 1.9-megapixels - compared with a 13-megapixel rear camera on the Galaxy S4.
It has up to 70 dedicated applications including some basic fitness apps such as a step-counting passometer, although Samsung hopes this number will grow as developers get on board.
Battery life, a key challenge for most wearable devices, has improved to over 27 hours under Samsung's normal-use tests.
Samsung also unveiled the latest version of the Galaxy Note phone-cum-tablet at its Galaxy unpacked event in Berlin, before the opening of IFA, Europe's biggest consumer electronics trade fair.
The new phone features an even bigger 5.7-inch, high-definition screen, improved stylus functions, a 13-megapixel rear camera and faster data connection than the conventional 4G network.
(Also see: Samsung Galaxy Note 3 with 5.7-inch full-HD display, Android 4.3 launched)

Samsung added enhanced security solution KNOX to the phone, setting its eyes on corporate users, a niche long dominated by Canadian smartphone maker BlackBerry Ltd.
© Thomson Reuters 2013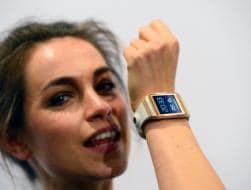 Samsung Galaxy Gear smartwatch in pictures