RK Narayan or Rasipuram Krishnaswami Iyer Narayanaswami as he was born, is one of the finest authors India has ever produced. RK Narayan is known for a vast body of works - short stories, novels, mythology and even non-fiction. Narayan's most famous works were based in the fictional South Indian town of Malgudi.
RK Narayan was born on October 10, 1906, which means that Friday marks his 108th birth anniversary.
Google has created a doodle to mark this date. The doodle looks like a painting with a balding man reading the book Malgudi Days placed where the second O in Google should be. The man's face is hidden behind the book, which has Malgudi Days written on the cover along with a village hut. The back cover of the book has black-and-white painting of RK Narayan.
RK Narayan was the brother of famous cartoonist R K Laxman, whose character The Common Man is well-known for humorous takes on the political and economical situation of India.
RK Narayan's most famous works include Swami and Friends, The Bachelor of Arts and The English Teacher. Swami and Friends in particular is known for its humour and portrayal of society through its characters. RK Narayan's works Swami and Friends and The Vendor of Sweets were also adapted to make a TV series titled Malgudi Days
RK Narayan's writing career spanned over 60 years, during which he won many accolades, such as the Padma Vibhushan (India's second highest civilian award), the Sahitya Akademi Award, the AC Benson Medal from the Royal Society of Literature. RK Narayan passed away, aged 94, on May 13, 2001.
For more Google doodles, visit this page.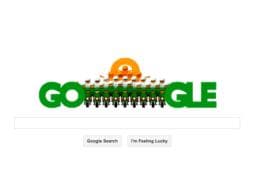 The best Google doodles of 2014
For the latest tech news and reviews, follow Gadgets 360 on Twitter, Facebook, and Google News. For the latest videos on gadgets and tech, subscribe to our YouTube channel.
Related Stories