Google today is celebrating the opening ceremony of the
London 2012 Olympics
with a doodle. Friday's doodle shows 5 athletes playing different Olympic sports.
This is not the first time that Google has created a doodle for an Olympics ceremony. In 2008, there was a doodle celebrating the opening ceremony of the Bejing Olympics on Aug 8, 2008. This doodle showed the five Beijing Olympics mascots - BeiBei, JingJing, HuanHuan, YingYing and NiNi - carrying the Olympic flag.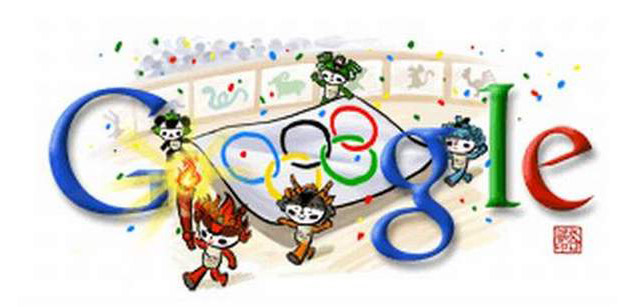 On August 9, 2008 Google doodle celebrated the cycling competition with a sheep wearing sunglasses riding a bicycle. The next day's doodle celebrated the weight lifting championship. A cute little mouse lifting heavy weights greeted google.com visitors on August 10, 2008. Perhaps this doodle became a creative inspiration for the Cheddar Cheese's famous mouse trap television commercial.
After bicycling and weightlifting, next in line were diving, rhythmic gymnastics, rings, basketball, badminton, soccer, rowing, ping pong, swimming, track and field athletics, high jump, martial arts and baseball doodles being featured during the Games. The theme for all doodles of Olympics 2008 was to show the twelve animals of the Chinese zodiac playing various games.
There was also a doodle for the closing ceremony that showed all the twelve animals having a gala time post the Games' wrap up. This doodle was visible only in JAPAC countries.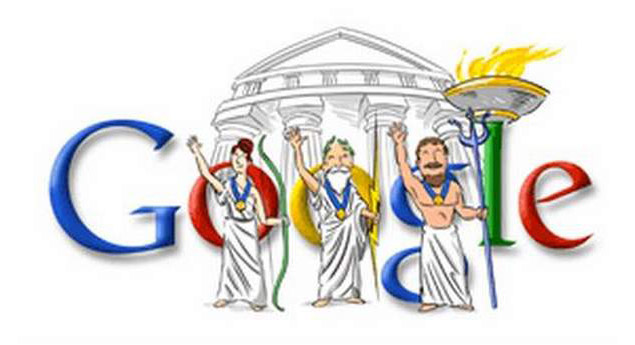 In 2004, the Olympics were held in the city of Athens and even then Google had rolled out a doodle with a 'Greek Gods' theme to celebrate the occasion. There were a total of thirteen doodles in this series that depicted Greek Gods playing various games and celebrating the spirit of the Olympics.
Olympics 2000 held in Sydney had doodles centred around Kangaroos. The opening ceremony doodle, on September 15, 2000 showed a Kangaroo carrying the Olympic torch. In this series too, there were a total of eleven doodles with the last being that of the closing ceremony, which consisted of a Kangaroo dancing on the podium with a big gold medal around its neck.

It is expected that this year too Google will stay true to its tradition and come out with a series of doodles spread across the next fifteen days. But it is difficult to ascertain the focal point for this Olympics doodle or how many doodles one might see.


Best Google doodles of 2012
For more
Google doodles
, visit
this page
.