Alongside the launch of the Lumia 630 smartphone, the Nokia Treasure Tag and MD-12 wireless speaker accessories were also launched for the Indian market.
Priced at Rs. 2,100, the Treasure Tag accessory will be available later this month. The device can work with Lumia phones which run on the Lumia Black update paired with a Treasure Tag app that is available from the Windows Phone Store. Further, it has been informed that there will be third-party apps for the Treasure Tag accessory, allowing it to support both Android and iOS devices.
First introduced in February, the Nokia Treasure Tag can be connected to a Lumia Windows Phone-based device via NFC or Bluetooth 4.0.
"If you leave the house without one or the other, the two will emit a loud tone to alert you of this fact. Should you miss the alert for some reason, don't worry. The clever app will help you to locate the lost item on a map, powered by HERE (maps)," mentions the official blog post.
Notably, a Lumia user can have up to four Treasure Tag accessories connected to the device simultaneously.
The Nokia Treasure Tag measures 30x30x10mm and weighs 13 grams. The new accessory comes with a battery life of up to six months; the battery is a standard coin cell type (CR-2032), which is replaceable on the Tag. The Nokia Treasure Tag will be available in four colour variants: Black, Cyan, White and Yellow.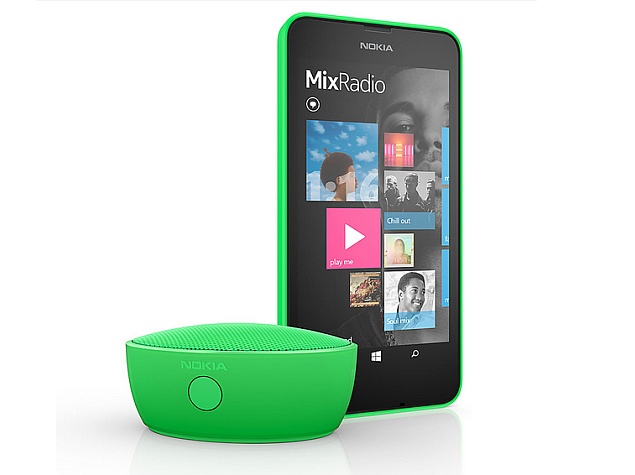 Also launched was the Nokia MD-12 portable wireless speaker, or the Nokia Bluetooth Minispeaker, for Rs. 5,499. The speaker will be available by mid-June, and is said to deliver good bass effect no matter what surface it is kept on.
"With a built-in vibrating actuator located on the base, low frequencies (read: heavy bass) are created when placed on most surfaces, especially hard ones, delivering a surprising amount of bass for such a compact speaker- in fact, it's rather fun experimenting with different surfaces," states the official Nokia conversations page.
For the user's ease, the Nokia MD-12 wireless speaker comes with battery level and power LED indicators. The speaker measures 38x84mm and weighs 180 grams. The pocket-sized speaker's rechargeable 1020mAh Li-ion battery is claimed to give 15 hours of playback when connected via Bluetooth or NFC. The speakers will be available in four colour variants - Yellow, Green, Orange and White.