The New Year 2015 is upon us and Google is wishing everyone Happy New Year with an animated doodle featuring fireworks on its homepage. Google's New Year 2015 doodle is created by guest artist Cindy Suen and is visible in almost all across countries across the globe.
As you would expect, New Year doodles have been a permanent fixture on the Google homepage since their introduction back in the year 2000. Apart from the New Year doodles, January 1 has also seen a doodle marking the celebrations of 25 years of TCP/IP on 1 January 2008. TCP/IP is the communications protocol that forms the backbone of the Internet, and in that sense it plays a very important role in pretty much everything Google does.
Millions of revellers took to the streets around the world from Sydney to New York to usher in New Year 2015 on Thursday, but in China celebrations turned to tragedy when 35 people were killed in a stampede in central Shanghai.
As the rest of the globe celebrated with spectacular fireworks displays in cities from Sydney to Moscow, chaos broke out in China's financial hub as people packed the Bund district to welcome the New Year.
A New Year's stampede on Shanghai's historic waterfront killed at least 35 revellers, most of them women, and injured dozens more, despite efforts by authorities in China's commercial hub to mitigate the risk of overcrowding.
While some witnesses said revellers had scrambled for fake money thrown from a building, others downplayed the likelihood that this was to blame.
It was a tragic note on a night filled with hopes for a more peaceful year than 2014.
The optimism was demonstrated in Australia, where an estimated one million people flocked to a massive fireworks display in Sydney Harbour for New Year 2015, defying terrorist fears days after a deadly siege.
As many as a million revellers braved frigid weather and poured into New York's Times Square for America's annual New Year party, which this year featured Taylor Swift.
New Year 2015 revellers in the Big Apple, wearing red traditional festive top hats, kissed and snapped selfies as a giant illuminated crystal ball slid down a pole, touching ground at precisely the stroke of midnight.
Written with inputs from AFP
For more
Google doodles
, visit
this page
.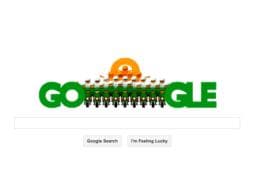 The best Google doodles of 2014