Motorola is the latest to jump onto the wearable bandwagon with the launch of its first smartwatch, the Moto 360.
The Moto 360 smartwatch will run Google's Android Wear, a software project that extends Android to wearables. LG has also announced its G Watch, which is also powered by Android Wear.
The former Google-owned company has announced that the Moto 360 smartwatch will be available in a variety of styles globally in summer 2014, starting in the US. However, the company is yet to reveal the pricing of the Moto 360.
Notably, the Moto 360 smartwatch features includes the "OK Google" feature that allows users to just say the command (Ok Google) and do a voice search, send a text, get directions or even play a song.
The company is touting the Moto 360 smartwatch's round face design and 'premium' build material.
The new smartwatch from Motorola shows subtle alerts and notifications to users, when required. Further, the Moto 360 also shows who's emailing or even calling, without taking out the connected smartphone from your pocket. As of now, Motorola has not revealed that whether the Moto 360 could feature direct voice-calling functionality.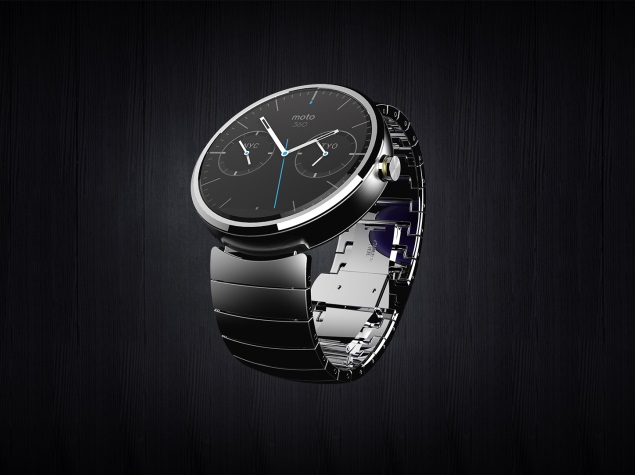 Motorola's CVP of Product Management, Lior Ron said in a blog post, "The wristwatch has been through several evolutions since it first became a popular fashion accessory more than a 100 years ago. From mechanical to electronic movements, analog to digital faces, the wristwatch has been reinvented several times over, but the basic design has endured for a century because of its elegance and usefulness 'at a glance.' Our vision for Moto 360 was to celebrate that history as we reimagined the wristwatch for the future."
It's worth pointing out that Google has revealed on its blog post that it is working with various brands such as Asus, HTC, LG, Motorola and Samsung to brings watches powered by Android Wear later this year.
The Mountain View giant has also announced that it is closely working with chip makers like Broadcom, Imagination, Intel, Mediatek and Qualcomm; even fashion brands like the Fossil Group for upcoming smartwatches based on Android Wear.
Watch the Moto 360 smartwatch in the video below: